Don't be surprised if Jay Cutler starts hearing Martellus Bennett's voice in his sleep.
As he prepares for his first season with the Bears, the veteran tight end is making a concerted effort to communicate with his new quarterback as much as possible. Bennett talks to Cutler constantly during practice, but it doesn't end there.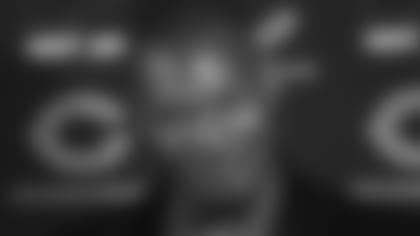 Tight end Martellus Bennett signed with the Bears in March after spending his first five NFL seasons with the Cowboys (2008-11) and Giants (2012).
"When we watch film I sit right behind him so I can whisper in his ear," Bennett said. "It sounds kind of creepy. But I sit right behind him so I can whisper in his ear and ask him, 'Hey, is that what you wanted?' He'll just give me a thumb's up. I know I probably get on his nerves because I'm always talking to him."

Cutler isn't safe during meals or down time in his dorm room either.

"I try to eat with him as much as possible," Bennett said. "I try to talk to him, drop by his room, even if it's not about football, let him get to know me as a person. That's the biggest thing. We know each other as people. He knows my background and he knows I've got to feed my family. I know I'm helping him feed his family, and we all understand that.

"I think it takes your game to another level."

Bennett and his wife, Siggi, enjoy socializing with other Bears players and their wives. Asked whether Cutler would be open to that, Bennett said: "He's open to that. Everybody's open to that. Me and my wife are probably two of the coolest people in the world. It's Jay (Z) and Beyonce, then it's me and my wife, and then it's David Beckham and Victoria."

Bennett, of course, hopes that developing a bond with Cutler results in success on the field. After serving as Jason Witten's backup for four seasons with the Cowboys, Bennett blossomed last year with the Giants. Starting all 16 games for the first time in his career, he set career highs with 55 receptions, 626 yards and five touchdowns.

It's no surprise that Bennett credits part of that success to the relationship he developed with Giants quarterback Eli Manning, a two-time Super Bowl champion.

"Eli was a guy I thought I communicated well with," Bennett said. "In Dallas, they already had their thing going with Witten [and quarterback Tony Romo]. I just watched them communicate and I was like, 'Whenever I get my chance, I'm going to do the same thing.'

"There was a lot of stuff that Witten did that I didn't really appreciate when I was there. But I'm very grateful for the four years I spent behind him and watched him, the professionalism that he had. I learned how to play tight end and communicate with the quarterback.

"I think communication is the biggest thing. It's one thing I saw Tony Romo and Witten do a lot of and that's one thing I try to implement in my game with the quarterback."