If Martellus Bennett is as entertaining on the field this coming season as he is off of it, the new Bears tight end will be heading to Hawaii next January to play in the Pro Bowl.
Bennett showed glimpses of his playful personality earlier this week at his introductory press conference, beginning with his explanation about nicknaming himself "The Black Unicorn."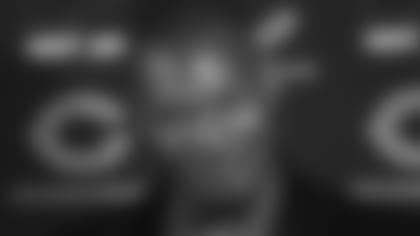 Tight end Martellus Bennett spoke with the media Wednesday after signing with the Bears.
"Basically, black unicorns are rare," Bennett said. "Anytime you see a picture, like at school when you get the little folders, they all have the white unicorns on there. So being African-American, I just thought it would be clever to be The Black Unicorn. Unicorns are cool, but I prefer dinosaurs.
"One day I had black tights on and I was running down the field and I just felt like a unicorn. I didn't feel like a horse; I felt like a unicorn, so I said, 'The Black Unicorn.' I like the nickname. It's like The Black Mamba for Kobe [Bryant]. The Black Unicorn is magical. I enjoy magic."
Bennett touched on a slew of other interesting topics, both during his press conference and in a one-on-one video interview with ChicagoBears.com.
On joining the Bears:
"I'm excited to be a Chicago Bear. Bears are one of my favorite animals after dinosaurs. I don't think there are any dinosaurs in the NFL, so a Bear is a great thing to be."
On fitting in with the Bears:
"I fit in well most places, whether it's the zoo or in the classroom."
On being a "deep" person:
"I'm deeper than I look. I should walk around with a 'no diving' sign on. I'm pretty deep. You've got to be safe around me. I enjoy a lot of things. I like culture. I like to learn."
On his friendship with Bears receiver Brandon Marshall:
"He's a guy I could relate to because we're a lot alike in personality. I can't relate to that many people because I'm kind of out there, so that says a lot about Brandon."
On his personality:
"I like to philosophize about things. Some things shouldn't be philosophized about like cupcakes and things that really don't matter. I'm a thinker. I like to read. I enjoy art. I enjoy culture ... I just like to have fun. I'm a big kid at heart. My favorite food is actually cake, so that says a lot. I enjoy movies. I'm a huge Harry Potter fan. I'm kind of mad that I didn't get cast for it."
On one of his latest pursuits:
"Right now I'm just studying [movie director and artist] Tim Burton. He's one of my favorite artists and one of my favorite minds out there. His creative mind and his creative being is something I look up to and try to be like him in the creative world a little bit. My wife bought me a book for my birthday the other day and I've been reading that lately. Studying him and watching all of his movies after the book, it's totally different."
On the type of art he does:
"I'm abstract, which is probably obvious. I enjoy doing abstract; been writing some cartoons and books and stuff lately that's also abstract. I wrote a children's book called 'The Wannabes' that should be finished in the next couple days. I did another book called 'Books That Make No Sense in the Place of Make-Believe: Dinosaurs, Astronauts and Cupcakes," which is going to be awesome."
On rapping about his love for Cap'N Crunch cereal in an Internet video:
"I haven't really ate Cap'N Crunch in a while. I've turned to Cheerios. I'm a Cheerios fan now. The Cap'N Crunch [video] is about four years old. I'm glad people enjoyed it. I should have made it into a ringtone. I probably could have got a check by now. But I wasn't thinking that far ahead. I was just expressing my love for Cap'N Crunch."