Bears fans may be salivating over Martellus Bennett's ability to make plays in the passing game, especially after he caught 55 passes for 626 yards and five touchdowns last season with the Giants.
But the free-agent acquisition sees himself as more than just a receiving target for quarterback Jay Cutler. Bennett is proud of his blocking and sees himself as a complete tight end.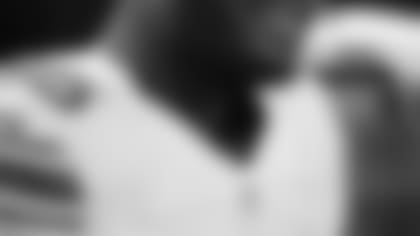 Tight end Martellus Bennett joins the Bears after spending five seasons in the NFC East with the Cowboys and Giants.
"I think I'm one of the best blocking tight ends in the game," Bennett said. "I actually enjoy blocking. It's a part of my craft, and I feel like lately in this game everybody's been separating tight ends by whether he's a blocking tight end or a receiving tight end.

"I take pride in being a guy who can do both. Whether it's blocking 100 times in a game or running 100 routes, I feel like I have the ability to do both."

Just like every other aspect of his game, Bennett continually works to improve his blocking.

"You can always get better," he said. "The guys on the other side get paid not to get blocked, so you've got to figure out how to block them sometimes. It's a will to want to block. I have fun blocking. They get to hit me every single play, so anytime I get to hit somebody else back it's a pleasure."

Pedal to the metal: After Bennett struggled at times during his first four NFL seasons with the Cowboys, Bears general manager Phil Emery was impressed with how the tight end performed last year with the Giants.

"It seems like he put his foot on the gas pedal all the way down to the floor," Emery said. "He stepped up. Each and every NFL city provides its own unique circumstances, but New York, much like Chicago, is a tough, demanding town. They want a winner.

"There is a lot of pressure on players to produce at a high level. You know what? He did that. He matured on the field and matured off the field."

No slight: If two-time Pro Bowl left tackle Jermon Bushrod plays with a chip on his shoulder, it isn't because the Bears' free-agent acquisition slipped into the fourth round of the 2007 NFL Draft.

After playing at Towson University, Bushrod actually was happy to get picked that high.

"Honestly I was a I-AA kid," he said. "I had dreams or aspirations of getting drafted. But the fourth round was a big deal. It was a big deal to me and it was a big deal to everybody back in Towson and in King George, Virginia, where I'm from. In King George, that's like the No. 1 pick."

Leading by example: Known for his work ethic and being a good teammate, Bushrod figures to eventually become a leader on his new team. But he won't do it by screaming or yelling.

"I've never been one of the vocal-type people," Bushrod said. "That's just not my personality. I guess you could say the way I'm going to try to lead is coming to work and putting in the work in the classroom and on the field.

"If I'm struggling with something, which I do every single year—there are a lot of things that I've got to deal with, moves I've got to deal with or things that I'm going to try to get accomplished—I'm going to fight to get those things better."