Bears linebacker Lance Briggs said Monday that he was "probably the happiest man in Chicago" last Friday when longtime teammate Charles Tillman re-signed with the team.
Briggs and Tillman were both selected by the Bears in the 2003 NFL Draft and have been starting together since the fourth game of their rookie year. The two have helped the team win three division championships and one conference title in 11 seasons.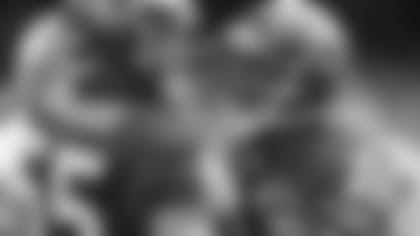 Lance Briggs and Charles Tillman have been Bears teammates since being selected together in the 2003 NFL Draft.
Appearing on ESPN 1000's "Carmen and Jurko Show," Briggs said that he was convinced that Tillman was going to sign with the Buccaneers and former head coach Lovie Smith. Tillman visited Tampa but ultimately agreed to a one-year deal with the Bears.
"When he told me he had a trip to Tampa and then I saw [cornerback] Darrelle Revis got released, I thought it was pretty much a sure thing," Briggs said. "I actually sent him a text saying that I wished him well and tell Lovie I say hi. I thought it was, and then the next day I get texts on my phone saying Peanut signed. I'm over here screaming. I'm just happy he's back."
Tillman clearly feels the same way about continuing his partnership with Briggs, telling ChicagoBears.com Friday: "I'm glad that I'm still together with my classmate, Lance Briggs. We've both started since the fourth game of our rookie season and will continue to play together. It's good to have a classmate. I can't say enough about that."
Briggs discussed other topics on the show as well, including the fractured shoulder he sustained last Oct. 20 in a loss to the Redskins, an injury that forced him to miss seven games.
"My injury was very avoidable, kind of looking back on it," Briggs said. "I fit on that tackle, but on the wrong side. I should have fit on the outside and hammered the ball in. But I saw the ball and I tried to play fast. Ever since I had the injury and was on the sideline, I thought about it every day."
Briggs acknowledged that he wasn't in prime condition when he returned from the injury Dec. 22 against the Eagles in Philadelphia, a game the Bears lost 54-11.
"I was not at my optimal weight at all," Briggs said. "Against the Eagles, it's tough for any team. They run 60-to-80 plays a game. At that point, I really didn't think that I was going to come back and play at all the rest of last year. I ended up just sucking it up and playing the last two games.
"Against the Packers I was fine wind-wise. There just wasn't a whole lot I could do for the two months I was off. Physically, I was shelved. That's what happens."
Asked about two assistant coaches losing their jobs after the Bears defense struggled mightily in 2013, Briggs put the onus on the players, even though a rash of injuries depleted the unit.
"At the end of the day, players have got to go out there and execute," Briggs said. "We'd get the calls during the week and we know the things that we're supposed to do. We've got to go out there and not only put ourselves in position, but we've got to make the plays.
"It's new to everybody in Chicago to see the defense play the way we did last year. It was embarrassing. It was sad. We set the wrong records. We just need to get back to doing what we're supposed to doing."
Briggs applauded the moves that general manager Phil Emery has made so far in free agency, calling defensive end Lamarr Houston "a rugged guy" who will be "a very good complement to our defense" and defensive end Willie Young "a fiery guy" who "gets after it."