Lance Briggs has played for only one team since he entered the NFL in 2003, and the perennial Pro Bowl linebacker intends to keep it that way.
Briggs told a group of reporters Thursday at training camp in Bourbonnais that when the time comes he plans to retire as a member of the Bears.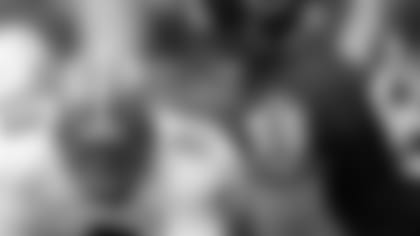 Linebacker Lance Briggs has been voted to seven Pro Bowls in 11 seasons with the Bears.
"I'm a true Bear," Briggs said. "This is Year 12. I've given my blood, sweat and tears and my heart to this city and playing for this team. When it's all said and done, I'll retire a Bear."

Since being selected by the team in the third round of the 2003 draft, Briggs has become one of the best defensive players in the franchise's storied history. He has been voted to seven Pro Bowls and helped the Bears win three NFC North titles and one conference championship.

Still as fierce as ever in a helmet and shoulder pads, Briggs has had a constant smile on his face off the field during training camp. After missing seven games with a shoulder injury last season, he's thrilled to be back healthy doing what he does best.

"I'm a happy guy," Briggs said. "I'm happy I'm around a lot of good men, and it's fun to be around a lot of good men who know how to work hard and know what it takes to play this game."

Briggs' enthusiasm and energy is evident on the practice field.

"I feel his presence out there," said coach Marc Trestman. "He's loud. He's making calls. He's getting people in the right positions. He's got a smile on his face at the right time. He's just good for our football team."

With Briggs back healthy, the linebacker clearly isn't the only one smiling in Bears training camp.

"If he's playing at full strength like the way he started last season we're going to be a lot better football team all around," Trestman said. "What he can do ripples through the entire team and special teams and onto the offensive side just by his athleticism, experience and leadership."

While Briggs is entering the final year of his contract, he's more concerned about helping the Bears improve upon last year's 8-8 finish than discussing his future.

"I'm not talking about a contract; I'm just talking about playing football," said Briggs, who will turn 34 in November. "I just want to play football, man. I've seen a lot of guys come and go. I'm here, I'm happy and I'm just appreciative."

Briggs often discussed contract issues earlier in his career, once famously vowing never to put on a Bears uniform again. But his perspective changed over the years, especially after seeing longtime coach Lovie Smith and close friend Brian Urlacher depart the team.

"In a matter of one day I learned that the coach that I had been coached by for the last nine years was going to be gone, and that whole staff and everybody that I was used to every day was going to be gone, and the guy who I shared a room with for 10 years was going to be gone, a lot of guys who I've built relationships with were going to be gone," Briggs said. "There were new guys coming in filling up those numbers and those lockers. That's life, that's the way it is. It's a business."

Briggs would love to win a Super Bowl before his career is over, but he's concentrating on more immediate goals, starting with what he can do right now to make the Bears a better team.

"Everybody wants to go to a Super Bowl," Briggs said. "But I think the most important thing right now is to do the best you can, help the team the best way that you can. That's my focus right now, and it starts with today and then tomorrow and moving forward."