Brandon Marshall apparently isn't the only Bears star who doesn't like the Packers.
One day after the receiver expressed his disdain for Green Bay, linebacker Lance Briggs echoed Marshall's sentiments in advance of Sunday's NFC North showdown at Soldier Field.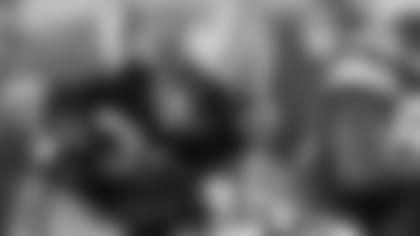 Lance Briggs and the Bears will look to snap a five-game skid against the Packers Sunday at Soldier Field.
"I feel the same way," Briggs said Thursday. "I have a lot of respect for their team and their players and their accomplishments, but it doesn't matter. I don't like the Packers and we've got to win."
On Wednesday, Marshall told reporters that he dislikes the Packers and their players, Sunday's clash is the biggest game of his career, and he's going to play like it's his last game.
Briggs said he's tired of losing to the Packers, who have won five straight and seven of the last eight meetings between the long-time rivals, including the 2010 NFC Championship Game.
"In this rivalry right now, they've been beating us up as far as in the win/loss column and you get sick of it," said Briggs, who joined the Bears in 2003. "You just get sick of it.
"I've been here a long time and in the years that I've been here there is not a more important game consistently every season than playing against the Packers. It's important to everybody, so we'll go out and we're going to play this game like it's our last."
Briggs had choice words for Packers tight end Jermichael Finley, who reportedly told FoxSportsWisconsin on Wednesday that he felt the Bears defense was probably better off without injured middle linebacker Brian Urlacher.
"Urlacher is at the end of his career right now; he's playing a little slow out there," Finley said. "I don't think they're losing too much if he's out. Putting another guy in might help them a little."
Asked about Finley's comments, Briggs said: "He's an idiot. Just suit up and play ball."
Somewhere, Mike Ditka and Forrest Gregg must be smiling. There hasn't been this much hostility between the two arch rivals since the Hall of Famers coached against each other in the 1980s.
Those games generally didn't have much at stake, however, because Green Bay was an also-ran until Brett Favre arrived in 1992. But Sunday's contest is different. If the Bears win, they'll pull into a first-place tie; if they lose, the Packers will clinch the NFC North title.
"It means the world right now," Briggs said. "We have to win this game. There are so many reasons that go into it. It's the Packers. It's the playoffs. Everything is on the line. We've just got to go out and leave it all out there."
The Bears defense will be challenged by Packers quarterback Aaron Rodgers, whose 104.0 career passer rating is the best in NFL history.
This season the reigning league MVP has completed 66.9 percent of his passes for 3,297 yards with 29 touchdowns, eight interceptions and a 103.7 passer rating that ranks fifth in the NFL.
"He's one of the best quarterbacks in the game," Briggs said. "What he's able to do with not only his feet and how accurately he can throw on the run is amazing.
"It always poses a problem for any team. It always means that no matter what the score is, the Packers have an opportunity of coming back and being in that game."
Rodgers is 8-2 all-time against the Bears, connecting on 68.4 percent of his passes for 2,439 yards with 16 TDs, eight interceptions and a 96.8 passer rating.
The Bears have had some moderate success against Rodgers, intercepting him twice and limiting him to a 55.4 passer rating in the 2010 NFC title game and sacking him five times this season in a Week 2 loss in Green Bay.
"The games we've played against Aaron Rodgers, a lot of those games he's had some of his lower passer ratings," Briggs said. "We've been in the games, we just didn't finish.
"We've squandered opportunities. Not getting enough turnovers; there are a lot of reasons why over the years we haven't won the game. But this is a new game. It's a new opportunity and we have a lot on the line."