Jermon Bushrod is not a scout. But having played with or against some of the free agents the Bears have signed this offseason, the veteran left tackle possesses a unique perspective.
Bushrod faced former Vikings defensive end Jared Allen twice last season and is very happy that the prolific pass rusher has become his teammate in Chicago.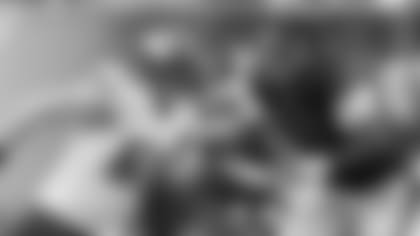 Bears left tackle Jermon Bushrod blocks defensive end Jared Allen last season at Soldier Field.
"He' a relentless player," Bushrod said. "He knows how to rush the passer. He's been in this league for a long time and has had a lot of success. When you play a guy like that, you have to study him as hard as possible because he studies his opponent. He's very smart and he just gets after it."
During Bushrod's four seasons as a regular starter with the Saints from 2009-12, he faced Allen and the Vikings three times, including in a 2009 playoff game won by New Orleans.
"Every time I play him it's the same thing," Bushrod said. "He just tries to find a way and he doesn't stop, whether he's trying to go outside, through you or trying to make an inside move.
"It's good to have him on the squad because he can show his leadership in his play. He's somebody for the younger guys to look up to and somebody for us to continue to practice against so we can get better offensively."
Bushrod no doubt will see plenty of Allen across the line of scrimmage; the Bears are one of the few teams that pit starters against starters not only in training camp but during the regular season.
 "It's kind of the same deal for me as last year, getting to face a Pro Bowl defensive end," Bushrod said. "Last year it was Julius [Peppers] and now it's Jared. It's just another good athlete that I can challenge myself with every single day."
Peppers, ironically, signed with the Packers and will face Bushrod twice this season. While some NFL observers feel that Peppers has lost a step or two, Bushrod is not among them.
"I faced the guy every single day in practice; I know what he can do," Bushrod said. "He still has a lot left in the tank and it's going to be a battle when we play him this year, especially with him lined up on the other side of Clay [Matthews].
"I wish him the best of luck, except when we have to face him. It was great getting a chance to be on a team with a guy like that to see how hard he works in practice. He might have been one of the older guys on our defense, but he was the first person running to the ball every single play."
Bushrod is also familiar with new Bears defensive end Willie Young, who spent the past four seasons in the NFC North with the Lions.
"He's another relentless one," Bushrod said. "He gets a lot of pressure on the quarterback. I've studied him over the last couple years and he flies off the ball. He's very quick. I'm excited about practicing against him as well and just having him on our team because I've seen the type of pressure he gets. When you play a guy like him, it's going to be an all-day battle."
Bushrod hasn't lined up against new Bears defensive end Lamarr Houston as much as Allen or Young given that Houston spent his first four NFL seasons in the AFC with the Raiders. But Bushrod has watched tape of Houston and is suitably impressed.
"He brings tremendous leverage to the game," Bushrod said. "He's a very powerful rusher, a very good bull rusher with good hands. He's another dynamic player who's good versus the run and the pass."
Bushrod is happy that the Bears signed his former Saints teammate, Brian de la Puente. After starting at center for New Orleans the past three seasons, De la Puente will serve as a backup behind center Roberto Garza and guards Matt Slauson and Kyle Long with the Bears.
"First off, he's a good dude," Bushrod said. "I played with him for three years in New Orleans, so I know the type of player he is. He's smart and he plays with good leverage. Honestly, it's a great pickup for us because he can play not only center but both guard positions as well."