Stepping up to the podium Tuesday for his first press conference in six weeks, Bears quarterback Jay Cutler jokingly told reporters that he had missed them.
Everyone in the room who chuckled at the thought knew that Cutler missed quarterbacking the Bears offense a whole lot more. Fortunately, the 11-year NFL veteran was cleared by doctors over the weekend to return to action after missing five starts with a sprained right thumb.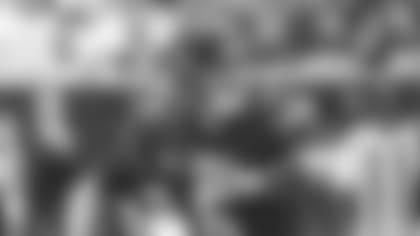 Jay Cutler missed five starts due to a right thumb injury, but is expected to start Monday night's home game against the Vikings.


"The whole not-speaking thing I was fine with," Cutler said. "The not-playing thing was the difficult part because it's out of your control. A lot of the game is out of your control. [Backup] Brian [Hoyer] did a good job, but I wanted to be out there."
Barring a setback, Cutler is expected to start Monday night's home game against the Vikings. That day will mark exactly six weeks since he was injured in a Monday night loss to the Eagles.
"As a player you always want to come back probably sooner than you should, the doctors allow," Cutler said. "This being my right thumb and being kind of vitally important to my job, we thought that erring on the side of caution was best."
Cutler revealed that the injury does not affect his ability to grip or throw the ball.
"Strength was the biggest thing, getting that back," he said. "There was soreness for a while, and just getting the strength back was the ultimate hurdle. You can't feel it throwing."
Since becoming a regular starter with the Broncos in 2007, Cutler has started 15 or 16 games in seven of nine seasons. The only exceptions were with the Bears in 2011 when he missed the final six contests with a thumb injury and in 2013 when he sat out four games with groin and ankle issues.
This year, then, is the first time that he's missed as many as five games and returned to action.
"I've been doing some stuff the last couple of weeks, [but] there's always going to be rust," Cutler said. "Anytime you take a layoff like that and come back, there's going to be some stuff you've got to knock off. Luckily, I was still around, saw the game, visualized the game, and was able to stay behind the quarterback and stay involved."
Cutler also expects to benefit from a long week that includes an extra practice Tuesday, due to the Bears playing on Monday night rather than Sunday. After a day off Wednesday, the team will return to the practice field Thursday, Friday and Saturday.
The more football the better for Cutler, who didn't enjoy watching the last five games from the sideline.
"I didn't like it," he said. "I've never liked being hurt, never liked being out. It could get to be a lonely feeling at times watching everyone else go out there and try to win ballgames. You're kind of just a helpless bystander. So being able to get in the mix and trying to help these guys is going to be fun."
When Cutler was injured, Hoyer stepped in and became the first quarterback in Bears history to pass for at least 300 yards in four straight games, though the team went 1-3 in those contests. Was Cutler worried about losing his starting job?
"I didn't really get into it," Cutler said. "I didn't want to. It didn't concern me. I wasn't ready to play. My thumb wasn't healed. The doctors weren't going to let me go. The training staff wasn't going to let me go. It didn't really bother me at that point."
Asked if he feels he still has Fox's support, Cutler said that he's had good conversations with the Bears coach "this week, last week and the week before."
"There's never been any strain in our relationship," Cutler said. "We're both very open and honest, and we're on the same page. We just want to win football games."
Cutler is well aware of the chatter outside Halas Hall regarding his future with the Bears. But he's only concerned with his present situation.
"I think those are conversations for the end of the year," Cutler said. "Right now I'm working with [coaches] and we're just trying to find first downs, get our third-down conversion rate back up and score more points. That's all we're really trying to do, and that's all my focus is.
"Whatever happens at the end of the year, it's supposed to happen and we'll go accordingly. But right now it's not something that I worry about. It's my 11th year, my eighth year here. I've seen a lot of ups and downs, and it's how it goes. At the end of the year, we can have those conversations. Whatever happens, happens."