A surprise starter in Sunday's season opener in Houston, Bears first-round draft pick Leonard Floyd showed his athleticism and versatility in his first NFL game.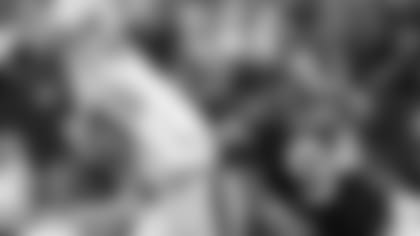 Bears first-round draft pick Leonard Floyd recording half a sack in Week 1 helping to take down Texans quarterback Brock Osweiler.


The rookie outside linebacker from Georgia registered five tackles, half a sack, one tackle-for-loss and one quarterback pressure in the Bears' 23-14 loss to the Texans.
"He's a gifted athlete, both in coverage and rush," said coach John Fox. "You kind of saw on the sack that he's got the ability. He's got good speed off the edge. He's got good speed in coverage. He has no problem bending. He does have good speed, so he's got pretty good lateral movement as far as pursuing the ball. He'll just continue to grow and get better."
Floyd has been listed second on the depth chart behind Lamarr Houston. But the ninth pick in this year's draft not only started against the Texans but played the most snaps (60) of any outside linebacker. Willie Young was second with 48, followed by Houston (27) and Sam Acho (15).
"He's a guy that wants to learn and wants to go out there and play effectively," inside linebacker Jerrell Freeman said of Floyd. "His first step is pretty quick, getting around that edge. He's green in a couple things. He's a rookie, but I think he's pretty mature for a rookie."
On second thought: Fox revealed Monday that he wished he would have challenged the spot the officials gave the Texans after a Brock Osweiler quarterback sneak early in the fourth quarter.
On third-and-one from the Chicago 22, Osweiler took a handoff and tried to surge up the middle. The officials gave the quarterback a generous spot—which resulted in a first down—and the Texans scored a touchdown three plays later to take a 20-14 lead.
The live TV version of the play clearly showed that Osweiler was stopped short of the first down, but two subsequent replays from different angles were not definitive.
"I think at the time if I had had the ability to see what people get to see at home with the yellow line (indicating the spot of the first-down marker) and blue line (the line of scrimmage), we might have won it," Fox said. "[In] hindsight I wish I would have challenged it."
Fox did not challenge the play because he rarely has seen a ruling regarding the spot of the ball overturned following a replay review.
"Whenever there's a scrum like that in a quarterback sneak, my experience has not been good as far as the spot," he said. "Typically, if they ruled it a first down, if there's not irrefutable evidence, it doesn't change."
Balancing act: Fox wants to win now while also developing young players for future success. Asked how he balances those two objectives, he said: "You just coach the heck out of everybody.
"This game is only fun when you win. It's a lot of hard work, a lot of hours. These guys get paid to practice; I think most of them would play for nothing. So there's a lot of hard work that goes into it. The old Wide World of Sports show [tagline], "the thrill of victory and the agony of defeat," we live every week. And that thrill of victory is a lot more fun to experience."
Tape doesn't lie: After watching tape of Sunday's game, Fox hopes that receiver Kevin White learns from the mistakes he made in his first NFL regular-season contest.
The 2015 first-round pick, who missed his entire rookie season last year with a leg injury, was limited to three receptions for 34 yards and wasn't on the same page with quarterback Jay Cutler on a play that resulted in a costly interception.
"That video is a great teaching tool," Fox said. "You're taking guys that were on the field and people slapping them upside the head and they're tired and sore," Fox said.
"[Watching tape of the game], it slows down. It's air-conditioned. They get to watch themselves perform. I think it kind of slows things down and hopefully they learn from both on a positive note and a thing they can get better from."