Facing the fierce New York Giants pass rush in a regular season game would probably cause Mike Tice some sleepless nights. But the Bears offensive coordinator is looking forward to Friday night's preseason match-up because he wants to see how his players fare against the best of the best.
"We're playing the defending Super Bowl champions this week and we'll really see if we're going to continue to get better because it's going to be a heck of a challenge for us," Tice said.
"You would rather see this than the Little Sisters of the Poor. You want to go out there and play against the best because it calluses you. It makes you tough not only physically but mentally."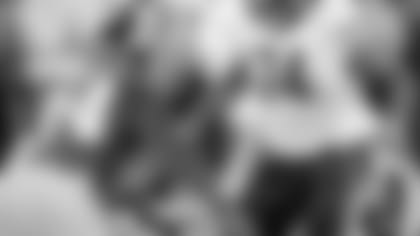 Chris Williams and the rest of the Bears offensive line will face a difficult challenge when they battle the Giants Friday night.
Battling defensive ends Jason Pierre-Paul, Justin Tuck and Osi Umenyiora in a 4-3 scheme will also provide a better litmus test than Saturday's preseason game against the Redskins' 3-4 defense. 
"Now you really get a chance to evaluate your players and see where you're at," Tice said. "The 3-4 defense is the 3-4 defense. Eventually at the end of the day your tackles are blocking big linebackers. So now you want to see them against some real large, athletic, strong defensive ends and then see where you're at."
The last time the Bears played the Giants in a regular season game was in 2010 when Jay Cutler was sacked an NFL-record nine times in the first half before exiting with a concussion in a 17-3 loss.
"I don't think anyone in the league has five, six guys they can rotate in that front four that can play like those guys," Cutler said. "It's going to be a tough test for [the offensive line]. We're going to try to help them out as much as possible. At the end of the game we'll have a pretty good idea what we have up front."
After mustering 41 yards and three first downs in the first half of the preseason opener against the Broncos, the line helped the Bears compile 262 yards and 13 first downs in the first two quarters versus the Redskins.
Cutler completed passes of 41 and 20 yards to Brandon Marshall on the Bears' opening possession and was not sacked on four series before being replaced by Jason Campbell, who connected with Alshon Jeffery for 34 yards and Eric Weems for 33 yards.
"There was nothing in the passing game I didn't like," Tice said. "I thought protection-wise we were really good. In the run game we knew going in it was going to be hard to run against that front. They were playing an eight-man box the whole game. I didn't think we were going to be that explosive in the run game. But we set ourselves a goal for explosive plays and we went out and got that in the passing game."
The winner of the competition for the left tackle position between J'Marcus Webb and Chris Williams is expected to be crowned after the Giants game. Tice was pleased with how both players performed against the Redskins, and revealed that Webb would start once again Friday night.
"Tackle-wise there was not a lot to beat up I didn't think," Tice said. "They both played well, so we'll see. Let's face it; this is going to be the week. We'll all know when we watch the game."
Williams wasn't the only offensive lineman who rotated into Saturday night's game. Chilo Rachal entered the contest alongside Williams on the Bears' fourth possession, replacing Chris Spencer at left guard.
"Spencer bounced back this week, but he wasn't stellar in the opener," Tice said. "We just want to make sure that we give everybody an opportunity and at the end of the day make sure we put the right five guys in there to go out and challenge Indianapolis [in the season opener]."
Rachal signed a one-year contract with the Bears in April after spending his first four NFL seasons with the 49ers. A 2008 second-round draft pick from USC, the 6-5, 323-pounder was San Francisco's regular starter in 2009-10 before serving as a backup last season.
"He brings intensity," Tice said. "He wants to be good. He's played in a good program. So he's done a lot of winning in his life. He wants to get better. He wants to do things the right way.
"He had a little setback and missed a few days of practice. But I felt like he went in the game and he picked up where he left off before he got his little setback. I was very pleased with his play and I was also pleased with Spencer's play. But we'll see this week. We're playing some real men this week, so we'll see how it goes."