Hroniss Grasu gained about 15 pounds this offseason and now weighs 310. But that's not the main reason the Bears center expects to be a better player in his second NFL season.
"I added weight, but that's just what's going to happen naturally as you mature and you get older and you're [following a strength and conditioning plan]," Grasu said.
"The biggest thing for me this offseason is learning the playbook even more and getting more comfortable with the playbook to where I don't even have to think anymore on the field and I can just go fast and be confident and play to my strengths, which is being fast and being quick."
The 2015 third-round draft pick from Oregon wasn't able to do that as well as he would have liked last season when he started eight games as a rookie.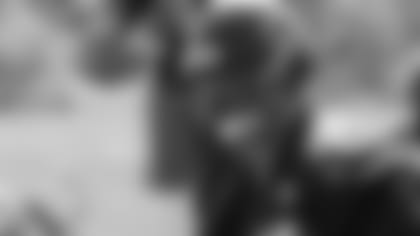 Hroniss Grasu started eight games at center last season as a Bears rookie.


"Last year I caught myself thinking too much, just thinking if I'm doing the right thing or not, if I made the right call or not," Grasu said. "But now I've got it down."
Transitioning from college to the NFL is always a challenge, but it was even tougher for Grasu given that he played in a high octane, no-huddle spread offense at Oregon.
"I knew that it was going to be difficult because from the program that I was coming from in college, we were going so fast where you just make a call and go with it," he said. "You really had no time to think. You've just got to play fast. On the next level here in the NFL, we huddle up and make calls and you've got to be confident with it.
"Last year the older guys really helped me, took me under their wing. But now this offseason I took it upon myself to help the guys out on the line. I knew if I studied even more and got even smarter and better with the playbook that it will help out this team, and that's all I'm here for is to help out this team."
Grasu has spent every week of the offseason sharpening a different aspect of his game. He's worked on taking a second step downfield to drive defenders off the ball, honed his footwork and studied zone-blocking concepts.
"I found one thing a week to focus on physically and mentally," Grasu said. "Every week it was something else. I did that all offseason and it's really been paying off."
After spending most of last offseason preparing for the NFL Combine and his Pro Day, Grasu has benefitted a year later from working solely on improving as a football player.
"It's unbelievable. It's a crazy difference," he said. "I didn't think it was going to be that big of a difference. Last year I was just so focused on my weight, feeling good, running around good, and I had no playbook to look at. This offseason I got to [focus on football]."
Grasu is part of a revamped line that the Bears bolstered this offseason in free agency with Ted Larsen and Manny Ramirez and the draft with second-round pick Cody Whitehair of Kansas State. Their additions have intensified position battles at center and guard, but that's just fine with Grasu.
"There's competition all around," Grasu said. "We're all fighting for a spot on this team. We understand that. Coach [Dave Magazu] is going to play the best five guys on the offensive line and we all take pride in that.
"What's so great is that we're all competing against each other, but we're all also helping each other out to become the best players possible. There are no grudges. There are no hard feelings in our room. We're all here on one mission and that's to win as many games as possible, and we're here to help each other out."
Roster move: The Bears on Wednesday waived tackle Tayo Fabuluje, a 2015 sixth-round draft pick from TCU who appeared in four games, all as a reserve, last year as a rookie.