Chris Harris was an NFL safety for eight seasons, including four with the Bears (2005, 2006, 2010, 2011). During that span, he helped the team win the NFC North three times and was a starter in Super Bowl XLI.
Harris finished his career with Jacksonville in 2012, where he was coached by defensive coordinator Mel Tucker. Prior to the 2013 season, Tucker moved to Chicago to take the same job with the Bears, while Harris followed his former coach to work for his former team. He became the team's defensive quality control coach and now is in his second season in the position.
ChicagoBears.com spoke with Harris about his responsibilities as a coach and his memories of wearing a Bears uniform.
What does a quality control coach do?
Oh man, it's quite a few job descriptions. Me and Sean (Desai) are both quality control, he pretty much breaks down the tape. I get the cards together for practice, along with, I meet with the safeties for game planning. Meeting with them, making sure they have the game plan, watching tape with them and doing individual practice with them. So it kind of, you wear a lot of different hats being quality control.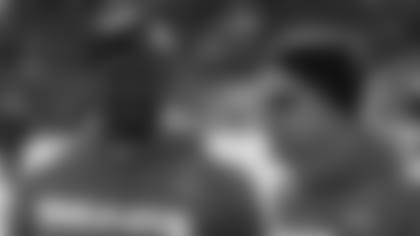 Chris Harris with Bears defensive backs coach Jon Hoke
Safety was a position a lot of people talked about in the offseason and during training camp. How would you evaluate the group's performance through two games?
So far, they've been playing well. Been playing good together. They're still gelling, getting to know each other, since everybody in the back end is new with the exception of Chris Conte. So their chemistry is building back there between the guys. They are definitely progressing every week and I still think we are not there yet, but we are moving in the right direction.
How has the transition from player to coach gone for you?
It has pretty much been seamless, because I knew this is what I wanted to do. I knew what it took to be a coach. I understood the hours are a lot different than when playing, I got that. I hung around my coaches as a plyer to kind of get a feel of what they did, to figure out what their job entails so I could make decision to say 'Yeah, this is what I really want to do' or 'No, this is not for me.' So it's been really a seamless move for me, been pretty easy.
How does your own experience as a former NFL safety help you as a coach?
I can relate to some of the things that they say, some of the things that they see, from a player's stand point and a player's view. Because from a coach's view, you don't always see it as a player. But I think I'm able to see it from a coaching view and then I can understand, OK, why you did what you did from a player's standpoint, because you saw it this way. So I think that helps me a little, in that aspect.
When did you realize that you wanted to become a coach? Probably my second year in the league, 2006, my second year in the NFL. That's when I realized this was a profession I wanted to go towards. I kind of had an idea but I think around my second year, this is what I was going to do when I got done playing.
Do you relate well to the players you now coach?
I was a sixth-round draft pick and nothing is given to sixth-round draft picks. You have to go out there and earn it, or really, you have to go out and take it. So, you'll see lower-round guys – fifth-, sixth-, seventh-round picks – and free agents, they have a different type of chip on their shoulders. They feel like they should have been picked higher than they were, or for those who weren't drafted, they feel they should have been drafted.
So they play, I'm not going to say with more passion, but with a different type of chip on their shoulder because they feel they have something to prove to all the people who doubted them or looked past them. So I think that gives those kind of guys an edge, the guys who are fighting to make the roster. The guys who are the 51st, 52nd, 53rd guys on the roster. So that's my kind of take on it.
Looking back on your playing career, what are some of your favorite memories as a Bear?
I got a couple. Probably the most memorable as a Bear was getting an interception in Super Bowl XLI on Peyton Manning back in the 2006 season. That was probably my most memorable. I would say the Monday night game in '06 in Arizona, when we came back from 20 points, that was very memorable moment. And, I gotta say, winning the NFC North in 2010 was another one and getting two picks against Brett Favre on Christmas Day when we clinched the division in 2005. I have so many.
Is it still strange to you to be on the sideline coaching as opposed to out on the field playing for the Bears?
Last year it was, this year it's not. Last year it was, 'Oh man, I still could be able to do this.' But no, I definitely can't . My body has failed me. Mentally, yeah; physically, no. So last year, I would get geeked for games, a couple games I wished I was out there. I think they were Monday night games or Sunday night games. But you know, I'm past that phase. I think that's the hardest thing for athletes to do, to move on. To go past your playing days.
And the thing that has helped me is that I'm still able to be around it, still able to be involved in football and to coach. And honestly, I enjoy the coaching aspect more than I did the playing aspect, because of the mental part of the game, the preparation that it takes to get guys ready. I love the X's-and-O's of football so I think that's why I like coaching more than I do playing.