Inside the office of Bears linebackers coach Reggie Herring, right above his desk, is a piece of paper. At the top of it, in big letters, it reads TACKLING. Under that is a list of the proper ways a player should tackle, from how they position their body before contact to the correct way to bring an opponent to the ground.
In this week's Coaches Corner, ChicagoBears.com spoke with Herring about the way the team practices tackling, how rule changes have impacted the position and what a pair of the team's linebackers do so well.
How do mobile quarterbacks, such as Cam Newton of the Panthers, present problems for the linebacking corps?
Well any time you face a quarterback with Cam's size, mobility, arm-strength as well as leg strength – his ability to win with his legs and his arm – is a dual threat and a concern for anybody playing defense.
Will previous experience facing mobile quarterbacks this season help your unit this coming week?
Well they are all unique in their own right and they all have different ways they handle pressure, the way they move in the pocket. They all have different ways when the y drop back, the ability to go to the second or third receiver, or stare down the main one. They are all different in that way.
Right now, obviously the type of player (Newton) is, we have faced those guys the first couple of games. I think it helps in the sense of awareness of his ability to move and create with his legs. At the same time, they have weapons at wide receiver and at running back with (DeAngelo) Williams. It's not just the quarterback, the tight end (Greg) Olsen is a really good player that they use effectively; he is one of their favorite targets along with (Kelvin) Benjamin, (Jerricho) Cotchery and (Jason) Avant. At the end of the day, quarterbacks with his tool set always present problems. And it is a challenge week to week. You can talk about what you're going to do, but it's going to come down to reactionary and how we react and adjust throughout the game.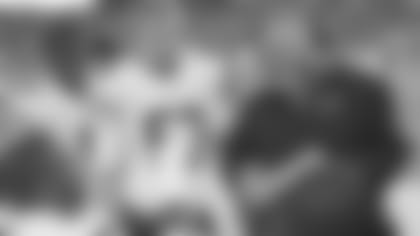 Reggie Herring goes over players with the Bears linebacker unit.
You have a sign in your office that talks about the importance of tackling properly. How do you practice tackling without putting your players or the offensive players at risk of getting hurt?
There's a lot of people that just don't really understand what tackling involves. When you get down to the basic fundamental roots of tackling, it's not just the physical contact. There's a lot more than the contact itself. So if you're in practice, whether you are tackling full speed or not, we are constantly working on tackling every snap. Whether it be an inside-out angle bringing square pads, leverage, bringing your feet with you, putting yourself in a position to make that tackle. We have to practice that on every snap.
It's no different than putting a putter, that if you hit the ball or not, lining it up to where you are going to actually hit it, you have to work on that. At the end of the day, we work on it every snap. Pursuit angles, play away, in-the-hole tackling, out-in-space tackling, balls thrown. Seven-on-seven is a great fundamental tool when we go versus receivers with no linemen. Your break angles, leverage to the ball, presenting your body in a position to make the tackle with leverage and balance.
All those things are reactionary and adjusting off movement that the offense presents you. That's as big a part of tackling as just hitting a person. So what I just said was, we work on tackling every day and we demand, because we are not taking to the ground live, we demand from our players that every snap is a potential tackle snap where everybody is perusing, everybody is getting to the ball in a football position. At the end of the day, there's a lot more to tackling than just hitting people. So we work on tackling every snap, every day. You have to in the NFL, because we can't beat up on each other.
Given recent rule changes on how players are allowed to tackle, does that impact your coaching philosophy?
Obviously you don't go out practicing car wrecks or walking in the middle of the street. You tell your children to study when they get home, they don't study, they get F's. When they get here, Day One, they are taught the proper way to tackle. The target, the framework. We work on it as a team. We have a certain way we do things.
It's still a game of balance, leverage with your head up – nobody has ever taught head down. The proper way is the top of the shoulder pad, near foot near shoulder, coil your body, lower your leverage and hips, clamp and accelerate through your man with your feet.
Every day rules change, we must adapt and adjust. I don't think tackling has really changed. The only thing they have done is try to take the head out of it. And to be honest with you, the head has never really been a part of the teaching. It's just kind of happened. There are certain thing you can't take the head out of, like when a running back is running at you full speed and he's ducking his head and the defender lowers his shoulder. The head is connected to the shoulder, by the way. Have you ever tried to stick your shoulders through a door without your head? People don't think about that. The rules, what they've changed, is they have taken away opportunities to make vicious hits for the benefits and the safety of the player. They haven't really changed the way to hit. We never taught to hit with the crown of the helmet or to launch at a guy's head.
Looking at Bears personnel, where has Jon Bostic improved over the course of the season?
I think the big thing is that he's learned to tempo himself. He's learning with experience how to slow himself down. To some extent he was almost too quick and reactionary. He has tremendous amount of instincts and sees things a lot faster than the play itself is developing. So therefore he can get ahead of himself. Or, he has a tendency to be looking at too many things and not looking at the right thing.
At the end of the day, without over-analyzing a simple thing called instincts and reacting to the ball, I just think he's learned to tempo himself. He's trained his eyes. He is playing with more square pad to the line of scrimmage, hand usage. And like I said, tempo and his keys to where he's putting himself in the right position more than he's putting himself in the wrong. So you train that every day in your drills, and he's bought in. He's always had excellent linebacker tool set, it's just a matter of time that he's growing up. He's getting better as we go, but he's not there yet. It's a process and he's progressing in a good way. His production is up, his reactionary is getting better and it goes back to experience, goes back to practicing and seeing things. Slowing things down, for him, was a good thing, because he'd get ahead of himself.
Lance Briggs sometimes gets forgotten in the history of Bears linebackers, though he deserves to be mentioned. What makes him so good, especially for the defensive scheme you are running now?
The big thing with Lance is instincts. You know, he has excellent instincts. He's always been quick and has the burst to close and has a good punch. He has a good power punch in his body, which you have to have to be effective. The one thing that I've seen since I've been here is really, to me, what sets him above most linebackers is his coverage instincts. He has a good feel for the passing game, our concepts. He understands coverage, good anticipation and awareness. And that is the thing I've been most impressed with is his ability to play coverage and do a really good job. At the end of the day, he's very productive, can play the run or the pass and is very balanced.