Akiem Hicks wanted to be voted to the Pro Bowl and was disappointed that he didn't earn a spot on the NFC squad. But a phone conversation the Bears defensive end had Tuesday night put the snub in perspective.
"I was talking with a friend of mine last night and her friend is starting rounds of chemo," Hicks said. "It was just as I found out about the news about the Pro Bowl. I said to myself, 'If that's not perspective for you, then I don't know what is.' He's fighting for his life and I missed out on a game. Perspective is always important."
Hicks no doubt will gain even more perspective Wednesday night when he takes 20 children in need on a holiday shopping spree at a Target store in Chicago. The event is entitled "Akiem's Dreams Presents Dream Day Shop at Target." The children were selected to participate from the Little Village Boys and Girls Club of inner city Chicago.
"During the holidays it's important to give back to those who are not just less fortunate but just to bring a little light into their lives," Hicks said. "What's more fun than going to the store and getting to pick out what you want? This is going to be fun for me, just to see the kids smile and have a good time."
Although Hicks understands that a friend's cancer battle and children in need are more important than who gets selected to the Pro Bowl, he concedes that being named only a fourth alternate will provide some extra incentive moving forward.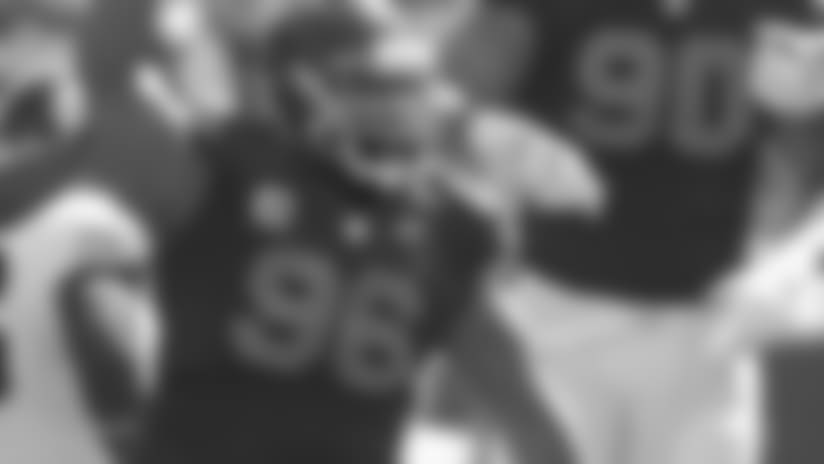 Bears defensive end Akiem Hicks celebrates a fumble recovery against the Pittsburgh Steelers.


"It's always motivation when somebody tells you that you're not good enough," Hicks said. "I wasn't even a first, second or third alternate. I'm the fourth alternate in a season when I've had eight sacks and (almost) 50 tackles. When people tell you that you're not good enough to do something, it just makes you want to be that much better.
"I'm one of the best interior defensive guys in the NFL. I know that. My team knows that. Coaches around the league that line up against me on Sunday know that as well."
Hicks not only is the Bears' most productive defensive lineman—his career-high eight sacks and 15 tackles-for-loss lead the team—but he's also a valuable mentor to younger teammates.
"Akiem does everything he can to make me a better player, not necessarily coaching but just being that big brother that I need in the league," said first-year defensive end Roy Robertson-Harris. "He's just an overall great leader, great person and great player."
Hicks joined the Bears in March 2016, a few months before the Bears selected defensive end Jonathan Bullard in the third round of the draft out of Florida.
"He's had a huge impact," Bullard said. "He was here my rookie year. Through the ups and downs he was guiding me and led by example. His words meant a lot, too, but more just the hard work and the dedication he put into the game. He knows what I'm good at and when we're out there together he just tells me to play my game."
Another young player Hicks has helped is defensive end Rashaad Coward, who spent the first 13 weeks of the season on the practice squad before being promoted to the 53-man roster and making his NFL debut Dec. 10 in Cincinnati.
"He teaches us to be a student of the game and to always listen to what the coach has to say," Coward said. "He helped me with my technique and seeing the little things on film and always keeping a positive mindset even when I'm not playing. He always tells me to be ready.
"People like [Hicks] always find a way to be great in any situation or to always make that situation positive."