On the football field, Bears fans would have virtually no chance of beating cornerback Charles Tillman deep for a touchdown or eluding linebacker Lance Briggs in the open field.
But former Bears linebacker Hunter Hillenmeyer plans to give fans the opportunity to level the playing field against their favorite professional athletes-at least in the video game arena.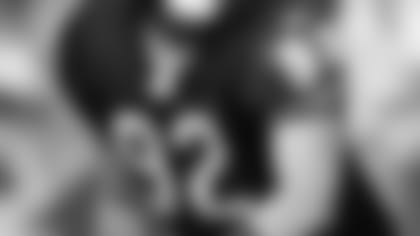 Hunter Hillenmeyer appeared in 101 games in eight seasons with the Bears.
Through his new company, OverDog, Hillenmeyer intends to have 'regular Joes' play video games such as Madden, FIFA, NBA2K, Call of Duty or HALO against pros via a mobile app.

The idea is for pro athletes to issue virtual and visual challenges to fans, who subscribe to the service and input their favorite teams. Say someone roots for the Bears and Miami Hurricanes. Every time Devin Hester signs in to play a video game, that fan would receive a challenge. A drawing would then be held to select one winner among all the fans who accepted the challenge.

OverDog launched a "Kickstarter" campaign Thursday, hoping to raise $100,000. The plan is to give all those who subscribe to the service exclusive access to the platform when the Beta prototype is launched in April until the full product is introduced in August.

"There's no better way to get access to a professional athlete and interact with them," Hillenmeyer told ChicagoBears.com. "Nobody who's going to back us on Kickstarter could tackle Devin Hester on a punt return or dunk on Kobe [Bryant], but when you put a video game controller in somebody's hand, we're all equals."

OverDog's advisory board includes Vikings punter Chris Kluwe, former Eagles receiver Hank Baskett, Tampa Bay Rays pitcher David Price and D.C. United midfielder John Thorrington.

When OverDog launches in April, Hillenmeyer expects to have about 100 pro athletes signed up to participate, including NFL Pro Bowlers, Olympic gold medalists, Cy Young winners and UFC fighters. It's a list that Hillenmeyer is confident will eventually grow to several thousand.

"Athletes are the perfect candidates to be big video gamers," Hillenmeyer said. "They're young, they're competitive and they have a lot of free time. A lot of them already will jump on Twitter or Facebook to play video games against their fans. So we're just building a better way for athletes to do something that a lot of them are already doing.

"A big part of the allure for the athletes is that they want to compete against their fans. They think they're going to win every time they play against their fans. And I know that a lot of fans are huge video gamers. So I'm excited to see how that dynamic plays out."

The popularity of video games among pro athletes was clear to Hillenmeyer during the eight seasons he played with the Bears from 2003-10.

"One of the 'ah-ha' moments for me was when they first put the players' lounge in at Halas Hall," he said. "They had all those game consoles in there and every time we were on a lunch break or a break from workouts, those were the first seats that were taken. There were always guys playing."

Having played for the Bears and the relationships Hillenmeyer maintains throughout the Chicago area, he expects several of the team's current and former players to participate with OverDog.

"As a Bears fan there's no better market to be in to have the access to athletes that you would want to play against," he said. "There will be more Bears on the platform from Day 1 than any other team in any other sport that we have. I think that makes it exciting if you're a Bears fan."