Bears radio announcers Jeff Joniak and Tom Thayer break down the first week of training camp:
Joniak: "From my perspective, there are three names that have really stuck out in the first week. One is defensive tackle Stephen Paea. It looks like he's in great shape, he's perfectly healthy, he's quick off the ball and he's getting a lot of acclaim for what he's doing. Second is running back Matt Forte. He looks sleek. I heard someone describe him as a colt, and that's how he's running. Third is rookie receiver Alshon Jeffery, who seems to have a lot of natural ability. What do you see?"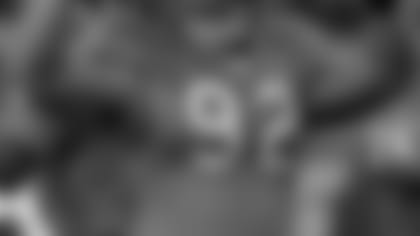 Second-year pro Stephen Paea is battling for a starting position in training camp.
Thayer: "Alshon Jeffery has got a great example to live up to with Brandon Marshall, who is a leader by example. Brandon is big, fast and elusive. He's also a great blocker who fits in really well with this offense. Alshon Jeffery will benefit from working with Brandon Marshall. When you look at Matt Forte, he is a pure, dedicated pro. His physical shape is impressive considering the contract dispute he went through throughout the whole offseason. That's one of the qualities you admire about him. At defensive tackle, there's a battle to see who wants to become a starter and Stephen Paea is certainly throwing his hat in the ring. He's a guy who has shown by example in individual drills and team drills that he's gained strength over the offseason in his upper body and lower body to be a legitimate starter."

Joniak: "One of the pleasant surprises of this camp is that Lovie Smith decided to go live once the pads came on with 16 plays for the third and fourth team as well as a live tackling goal line drill. Personally, it makes it a lot more fun to watch and it's a better evaluation tool."

Thayer: "It's a great opportunity to evaluate veterans to see where they are at this stage of their careers. But it's an even better evaluation for the rookies for allowing them to get some solid contact on the practice field so when they get to the preseason games it's not such a big surprise. The evaluation by Lovie Smith and his staff out here and the full contact practices are going to be very beneficial."

Joniak: "When it comes to the big position battle at left tackle, I feel that J'Marcus Webb has all the tools and Chris Williams has the experience. What are your thoughts on those two players?"

Thayer: "This new system is going to benefit both of those players. The last system may have put the tackles in an unenviable position in terms of the length of protection on individual assignments. I think there's more security built into this pass protection where both J'Marcus Webb and Chris Williams can be solid athletes at the position and then incorporate all the nuances of the system. I think it's going to be helpful to both of them because in protecting Jay Cutler, that's going to be one of the key elements of big-picture success."

Joniak: "It's been fun watching the cornerbacks. I think they've all risen with their performance over the course of the week and the new additions in Kelvin Hayden and Jonathan Wilhite. Tim Jennings' play has really continued to progress in a positive direction even after minicamp and the offseason program when he got a lot of acclaim for what he did. He seems to be really focused on being a better defender on the ball and making sure he collects those interceptions and forces those fumbles."

Thayer: "Jon Hoke and Gill Byrd are two very fine defensive back coaches. But when you go through drills, you have to have a leader by example and Charles Tillman is filling that role. He does a great job of identifying the effort you have to give in the drills so that the rookies can pick up the slack and start showing up in terms of getting identified as possible contenders for jobs here. When you talk about Charles Tillman, Tim Jennings and Kelvin Hayden, you're talking about starting cornerbacks. With the younger guys, you wonder how they fit into the special teams. Special teams coordinator Dave Toub is watching every defensive back drill to see how these players can fit into the best special teams in the league." [ ](http://www.phoenix.edu/campus-locations/il.html?utmsource=Story&utmmedium=instory&utmcampaign=300x100)
Joniak: "I'm going to end with special teams. I think that Dave Toub has the opportunity with what already has been a top-five or top-10 special teams unit almost every season he's been here since 2004 to have the best one ever. He's got a lot to choose from and a lot of guys with a lot of versatility. I can't wait to see the special teams. People are going to love Blake Costanzo. He's got a ton of enthusiasm and a New York attitude. I think he's really going to add some life to special teams."
Thayer: "You look at Adam Podlesh, Robbie Gould and Devin Hester, and they're guys who bring a Pro Bowl atmosphere to the special teams. It is a true sign of the worth that you're felt on this team when you do get picked to be on one of the special teams because they win games for you here in Chicago. They're not just here to assist the offense and defense. This is a special teams that will win you one, two or possibly three games a year."