Nearly two years ago, a six-year-old Will Dybas saw then-rookie Bears quarterback Justin Fields for the first time. Will's parents, Jennifer and Mark, brought him to Bears Family Fest at Soldier Field, seeing it as a fun family bonding activity before the end of summer.
That casual family outing on a random Tuesday in August quickly turned into a passion. Will became hooked on watching Fields and the Bears. After seeing Fields practice that morning, Will couldn't get enough; he started reading about Fields, watching his interviews and taking a liking to football. For Will it was simple–Fields seemed "really nice" and was "a really good player."
"That year Will decided he wanted to be a Chicago Bear player for Halloween," Jennifer said. "So we bought the little $40 helmet and plastic pads costume and he kind of just kept making his outfit from there. He would watch every game. Most of the fall and winter, our family room floor was dedicated to all the couch cushions, the blankets and pillows stacked up and him running down the staircase to jump and catch the ball while he's watching the game."
Plenty of young kids idolize NFL players like Fields, but Will's passion and dedication to proving his fandom is unique. It's what has led him to meeting his idol not just once, but now three times.
What started out as a goofy meeting between Fields and his mini me at last year's training camp has blossomed into a genuine connection that now extends beyond just the quarterback and through the entire Bears organization.
"I couldn't ask for him to pick a better role model – outside the family - than Fields," Jennifer said. "I'm so happy with his choice, because he's emulating his work ethic. He sees the videos of how hard he works on the field. He listens to the press conferences and all the videos about how every day is a day that you can use to learn and to grow and to get better. For him to be listening to his role model saying that over and over, I couldn't be happier with his choice."
With the help of the Bears' football communications department, Will received another special experience last Friday at training camp. He was given a tour of Halas Hall which included seeing Fields' locker, meeting general manager Ryan Poles and coach Matt Eberflus and interacting with several other Bears players such as receiver DJ Moore and running back Khalil Herbert.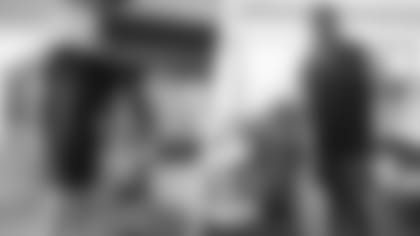 The origin of Fields' relationship with Will started last year at training camp. Will dressed up just like Fields – wearing everything from the jersey, pads and helmet, all the way down to his headband, towel and Bears-branded fanny pack.
Will's outfit got him noticed by a Bears staff member while he was waiting to get a glimpse of Fields outside the Walter Payton Center after practice, and he was brought inside to meet his idol.
Even a year after Will shared the special moment with Fields, the now eight-year-old still can't find many words to describe that experience, but there's no doubt "it was really cool."
"It's a great position to be in," Fields said. "I take pride in being someone kids can look up to. I love kids and being around them so if I can inspire some along the way, it's even better."
Will's next encounter with Fields came at the quarterback's youth camp he hosted at Deerfield High School July 18. Jennifer and Mark were originally hesitant on signing their son up as they were unsure of what to expect, but took the chance anyways because they knew how happy it would make Will.
Rocking the same hairstyle and sunglasses as Fields, Will was once again picked out of the crowd, this time by Bears rookie defensive back Tyrique Stevenson, who wanted to show Fields he had a look-alike. When Will was brought over to Fields, the quarterback instantly recognized him and lifted him up in excitement, leaving Will to feel "eight feet tall."
"It's not even a one in a million thing that someone gets to interact with their hero," Jennifer said. "And to have them recognize him and come up to him, he just floats for days after."
Will's passion for Fields and the Bears has created a ripple effect through his whole family. Since Family Fest in 2021, Jennifer and Mark, along with their 14-year-old daughter, Jennavieve, have supported Will's Bears fandom and desire to play football.
Growing up the in the Chicagoland area, Mark had always been a casual fan of the Bears, but it wasn't until there he saw such passion from Will that the Dybas' became dedicated fans.
"We all started participating and as we did it, it actually brought us together more as a family, now having a shared passion," Jennifer said. "We're all out in the front yard now playing football. [Will] is out there every day throwing the ball. Every single day, he's running through the yard. The amount of time that we all spend doing that, it just creates more of a passion for it."
Last year, the Dybas family drove over an hour from Orland Park to Lake Forest for nearly every day of training camp, allowing the group to become closer than ever. Even Jennavieve took a liking to it as Jennifer said: "She can look at the numbers and know who all the players are. She literally gets here and stakes her spot out and stays there for practice just in case they're going to be doing autographs."
While the Dybas' couldn't get tickets to every training camp practice this year, they were at Halas Hall last Thursday, which marked Will's third time meeting Fields, as well as Friday.
"It's been great," Fields said. "Will definitely puts the effort into his looks and his costumes. Last year he had the full uniform and now he has the braids and everything down to the wristbands and the eye black, so it's cool for sure. Will's one of our great fans and hopefully we can give him a lot to cheer for this year."
Jennifer constantly reminds Will to "enjoy every second" of these moments, because she understands how rare they truly are.
Spending so much time at training camp the last two years, Jennifer has also developed an appreciation for the entire Bears organization and how everyone–from the interns on the shuttles buses to and from Halas Hall, to the security staff, to the players themselves–have treated Will and her family.
"There is not one person [here] who hasn't just been such a good person," Jennifer said. "The people that work for the Bears, they're incredible. And the way that they've kind of embraced what Will does and welcome it, it's heartwarming."