Continuing to recover from a shin injury that has sidelined him since June, Bears rookie receiver Kevin White did some light running for the first time during Monday's practice.
"We've got a plan for him and he's making progress," said coach John Fox. "He's been running, but it's been in water, [doing] some various types of exercises that don't take pounding on the legs. From what I've gathered so far, he had a good day today."
White, who starred at West Virginia before being selected by the Bears with the seventh overall pick in the draft, has not practiced since hurting his shin during OTA workouts. While White is eager to return, the Bears are being cautious with him.
"He's a tough young man," Fox said. "He's [champing] at the bit ready to go, [but] we've got to be smart enough to ease him back into it. He hasn't played football in seven-and-a-half or eight weeks, so it would be crazy for us just to throw him back out there."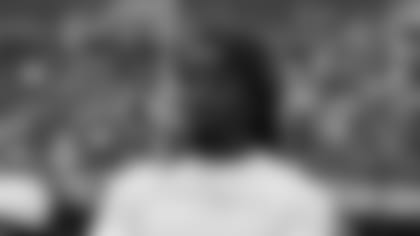 Kevin White at Family Fest 2015.
Last week offensive coordinator Adam Gase praised White for his work ethic, saying that the rookie's character wouldn't allow him to fall behind his teammates even though he wasn't practicing. On Monday, receivers coach Mike Groh echoed that sentiment.
"Mentally, I think Kevin's doing an outstanding job," Groh said. "He's done everything that we've asked and more, certainly made sacrifices in his personal time to get out in front of the playbook and understand everything that we're trying to do and everything we're installing.
"So I'm very proud of him for what he's done off the field. And then when we get him on the field, we're going to see what he can do out here physically."
Groh has been impressed with White's desire to digest the offense from the day he arrived at Halas Hall.
"From the moment he could start learning the playbook, he did, and he's absorbed the playbook," Groh said. "He really has done a good job. He's in the locker room before the scrimmage on Saturday, can't play, and he's in there studying. He's taking notes in his notebook, going over the game plan. He's doing everything like a veteran would do."
At the time of his injury, White had been performing well in offseason practices. Asked what stood out most about the 6-3, 217-pounder, Groh said: "His physical skills, and his gifts, straight-line speed. He's got very strong hands. He's got ability to drop his weight, bang a DB around and make contested plays. Those are the kind of things that we think physically he'll bring to the offense."
The Bears are hoping that White is able to return to practice soon. But even if remains sidelined for a few more weeks, that doesn't mean he won't have a productive season. Last year Giants rookie wideout Odell Beckham missed the entire preseason and the first four regular-season games and still caught 91 passes for 1,305 yards and 12 touchdowns.
"Just like we saw Odell Beckham do last year; he missed a lot of time early and I think he must have stayed engaged mentally," Groh said. "They kept him going, kept him engaged in the meetings, and that's what we've tried to do here. And when [White] can go out there and do it, he's going to go do it."