Former Bears center Olin Kreutz praised the performance of the team's revamped offensive line this past season during an appearance Wednesday night on WSCR-AM 670.
The Bears retooled their line last offseason, adding left tackle Jermon Bushrod and left guard Matt Slauson in free agency and right guard Kyle Long and right tackle Jordan Mills in the draft.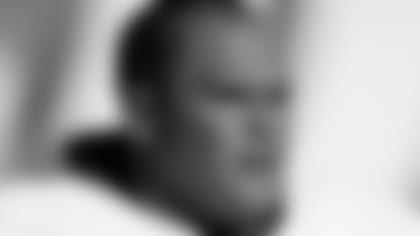 Olin Kreutz's 183 career starts are second in Bears history to Walter Payton's 184.
The four newcomers gelled quickly with veteran center Roberto Garza—the only returning starter—and served as a catalyst for a record-breaking offense in 2013.
"That was a great offensive line," Kreutz said. "I played with Bushrod for a little while in New Orleans and he's a pro's pro. Everybody knows how I feel about Roberto Garza. Slauson, and Long and Mills, that was just unbelievable the way they performed as rookies.
"I had my doubts when they took Long [in the first round], but he proved us all wrong, all the guys who doubted him. He was amazing to watch; a big, tough offensive lineman."
The line helped the Bears rank second in the NFL with 445 points and set team records with 6,109 total yards, 4,450 passing yards, 32 passing touchdowns, a 96.9 passer rating and 344 first downs.
Kreutz, who was voted to six Pro Bowls in 13 seasons with the Bears from 1998-2010, remains close friends with Garza, his teammate in Chicago from 2005-10.
"You can't get a better pro than Garza; someone who is really just here for the team and here because he wants the team to win, and he's always been that kind of guy," Kreutz said.
"He's a guy who came from [having] no ACL where teams wouldn't even touch him. We gave him I think the league minimum back in 2005 and he's just worked his butt off. He's always been a good ballplayer. It's just that people doubted him. He does everything right every day and you can't get enough of those guys in the building."
Kreutz, who appeared on WSCR-AM with Zach Zaidman and longtime Bears teammate Patrick Mannelly, also discussed the bullying scandal involving Miami Dolphins offensive linemen Richie Incognito and Jonathan Martin.
"For anybody to try to relate their story to what was going on down there after all the reports have come out, I think that was a Miami Dolphins problem," Kreutz said. "I think that it was maybe the perfect storm for those two guys to be together and something like that was going to happen.
"Your first reaction as a football player is how does a guy that big [like Martin] get bullied and I think that was a lot of people's reaction. I've gone back and forth with that argument with a lot of people. But unless you're there, unless you know what everybody's going through and what was actually going on, it's hard to say."
During his Bears career, Kreutz was a well-respected team leader who some viewed as an intimidating presence. Asked if he regretted anything he did, Kreutz said: "I don't know.
"I know there were times that I got out of line and there was a chain of command [of] people [to] tell you to knock that stuff off, whether it was 'Big Cat' Williams or Lovie Smith or Dick Jauron or Jerry Angelo or Brian Urlacher, even Pat [Mannelly] pulling me aside and saying, 'Maybe that was too much.' That's maybe what they were missing down there [in Miami], but like I said it's hard to say when you're not there.
"You want to make sure you're not crushing somebody, and if you were doing that and without realizing it, maybe that's when you need a little help from other leaders on the team or other people around the building who are in charge, someone for Martin to go to and tell Incognito, 'You've got to knock this [stuff] off or this is not working for this kid, so why don't we just try something new?'"