During a conference call with the Chicago media late Thursday, it was evident that Oregon guard Kyle Long was thrilled about being selected by the Bears with the 20th pick in the NFL Draft.
"I'm very excited and grateful to be a Chicago Bear," Long said. "I didn't expect to go this high in the draft. I'm just very excited to join an organization with such a great history and such a great fan base. Not enough can be said about the Chicago Bears organization."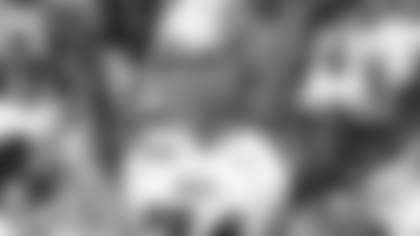 ](/multimedia/photo-gallery/Kyle-Long/47dde115-bbb1-4ff2-8021-c79b2a69f9a9)

Click to view a photo gallery of Long's college career.
Long's experience Thursday night was much better than the one he endured in 2008 when he was selected by the Chicago White Sox in the 23rd round of the Major League Baseball draft.
In high school I sat through 23 rounds of the Major League Baseball draft waiting to hear my name called every pick, so I just tried to keep my expectations pretty low and keep an open mind about what happens," Long said. "But I was so thrilled and I was ecstatic to hear the Chicago Bears drafted me."
After hitting it off with offensive coordinator/offensive line coach Aaron Kromer during a pre-draft visit to Halas Hall, Long had a feeling that the Bears would draft him.
"I wasn't surprised I ended up being picked by the Bears," he said. "I had a great visit with coach Kromer and I really enjoyed my time in Chicago. I had a great opportunity to sit down and get to know the people within the building. I got to O'Hare [Airport], I was getting ready to fly back home and I had a great feeling about Chicago.
"Coach Kromer is a great coach and I'm looking forward to the opportunity to try to earn the respect of my teammates and hopefully be able to help the Chicago Bears."
While Long only appeared in 11 games with five starts at the Division I level—all last season at Oregon—he doesn't view his lack of experience as a negative.
"It can be looked at like I can get a lot better with coaching and with the right guys around me and I feel like I have that opportunity in Chicago," Long said. "I'm really excited to get to work with coach Kromer and the rest of the staff.
"It's been clear from the beginning in conversations with [head coach Marc Trestman] that I am a very raw player. They are on the same page with me in that my best ball is ahead of me. They're confident in their staff—as I am—that they can get me ready to play.
"I just want to come in and work day-in and day-out to try to earn the respect of the guys around me and the people in the building over there in Chicago. Hopefully good things happen."
Long had trouble maintaining his grades as a freshman baseball player at Florida State and also reportedly had a DUI arrest in 2009. But Emery is impressed with how Long dealt with the adversity and is convinced that he's matured.
"When he was at Florida State, he flunked out academically," Emery said. "He had some off-the-field issues. He recovered from those. He's moved forward. He is here today and we're extremely excited that he's made those steps in his life to be here today as our No. 1 pick.
"All of us have fallen in life at one point or another and the important thing is, 'Do we get up and do we move forward? Do we try to get ourselves better and not only get ourselves better but get those around us better? And that's what this young man has done."
Long said that the Bears "were very straight forward" when inquiring about his off-the-field issues.
"They liked what they saw in me as a football player and nothing from what they had heard led them to believe anything different regards to off the field," Long said. "I feel like I'm a pretty stand-up guy. I'm an honest guy. I'm very forthright. I'm very blunt and we had a great meeting and I was able to answer some of the questions they had."
Now 24, Long is putting the incidents that occurred in 2008-09 behind him.
"I was a young kid and I was just dealing with some stuff off the field that I had to work through," he said. "I'm past it now. I am four-and-a-half years removed from [that]. I feel like my best ball and all of that is ahead of me. I'm real excited just to be a part of the Bears organization. I'm grateful for them; the fact that they've given me an opportunity."