Bears right guard Kyle Long has never played against his other brother, Chris, a star defensive end with the Rams, in any sport at any level. But that will change Sunday in St. Louis.
The two oldest sons of Pro Football Hall of Famer Howie Long and wife Diane will battle each other at the Edward Jones Dome. The rare match-up no doubt will elicit conflicted feelings from relatives and friends, many of whom will attend the game in a suite with Howie and Diane.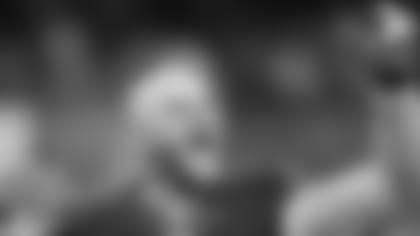 Guard Kyle Long, who was selected by the Bears in the first round of this year's draft, took an unusual path to the NFL.
"I can't emphasize enough how blessed my family and I are to have this 'problem' of two brothers playing against each other," Kyle said. "The thing that makes it unique too is that [unlike] most sibling rivalries in the NFL, we're not playing quarterback and we're not both receivers.
"We play on the same side of the line on opposite sides of the ball, so the chances of us running into one another and getting physical with one another are pretty high."
Growing up in Virginia, Kyle, 24, may have been closer with younger brother Howie, Jr., 23, than Chris, 28, because of their ages. But Kyle worshipped the ground that Chris walked on.
"People would usually think that my dad would be my idol, but my older brother is somebody that I've idolized," Kyle said. "I've looked up to him my entire life. I try to emulate the things that he does on and off the field. I try to play with the same passion and [motivation] that he does, which is really tough to do because he goes hard for a very long time.
"I have a tremendous amount of respect for him. Drake actually said it in a song: It's funny when your idols become your rivals, and that's the situation that we're in. It's a blessing and it's a curse. I know my mom and dad are going to be worried sick up there in the suite at the Jones Dome."
Kyle revealed that the only times the brothers get to compete against each other is when they work out together during the offseason at their family's home in Montana. While conceding that Chris "blew me out of the water" in a conditioning test, Kyle said he recorded a better time in a strength test that involved pushing a Jeep 30 yards across their driveway.
"We do high-altitude training," Kyle said. "I really enjoy it. I get to see what kind of work is put into his career and what it takes to have that kind of success, and it's unbelievable. That's about the extent of our competition amongst each other. I'm really looking forward to this Sunday. I've never been on the same field with my brother with him wearing a uniform and me wearing a uniform."
The Long brothers took very different routes to the NFL. Chris was selected by the Rams with the second overall pick in the 2008 draft out of Virginia, while Kyle initially accepted a scholarship to play baseball at Florida State University before returning to football.
Kyle was eventually chosen by the Bears with the 20th pick in this year's draft after playing one season at Saddleback Community College in California and one at Oregon.
"I'm just very proud of him," Chris said. "It's not easy, no matter what anybody tries to tell you, being the son of a Hall of Famer. And then when you add being my little brother, for whatever that's worth, that can be difficult too. So whatever pressure I think I've been under, he was kind of under double that, or maybe 1.5, I'll put it that way.
"He's done well with it. He's messed up once or twice and gotten knocked down once or twice and taken a long path. But heck, for a guy that's been at one college and a JUCO and changed sports and played one year of major college football, he's doing a hell of a job.
"I've just been proud of the way he's handled everything and the man he is. It really has nothing to do with football for me. But I'm just really proud because I know how hard this job is."