His father Howie Long was a Hall of Famer with the Raiders, but Bears tackle Kyle Long wasn't a very big fan of the Silver and Black as a kid.
Kyle was only five years old when his dad retired in 1993 after playing his entire 13-year NFL career with the Raiders. Kyle grew up mostly in Virginia and actually became a Rams fan in 2008 when his older brother, Chris, was drafted by St. Louis.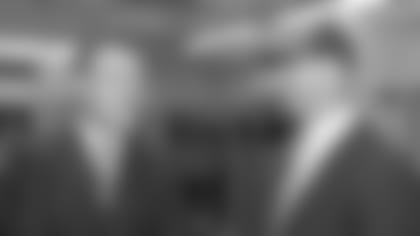 Kyle Long and his dad Howie Long chat in the Bears locker room after Kyle was drafted in 2013.
"I know there was a lot of Raiders stuff in my house," Kyle said this week as he prepared to face his father's former team Sunday. "We were given the freedom to choose, I guess, freewill. I didn't really like football until I was 15 or 16. I became a Rams fan I'd say before anything else because of Chris. But there was definitely a lot of Raiders stuff in our house."

Since he was a kid, Kyle has gained a greater appreciation of NFL history and what his father accomplished with the Raiders, winning a Super Bowl and being voted to eight Pro Bowls.

"I have a tremendous amount of respect for the guys who came before us and played this game regardless of what helmet they had on their head," Kyle said. "Obviously, Silver and Black is something that's been part of my upbringing and I'm very proud of the things that my dad did with that organization."

That doesn't mean, however, that Long would feel safe venturing into the "Black Hole," a notorious section of the stands in Oakland that's filled with fans who resemble characters in the movie "Mad Max."

"If you're going into the Black Hole I don't think you'd be sending your significant other or your children there to watch the game," Long said. "I know my dad would have people watching my mom, making sure she was OK at the Raiders game. It's a raucous group. They've got spikes on their shoulder pads. Those guys are crazy."