Hours after Jay Cutler told reporters that he hopes to return earlier than expected from his torn groin muscle, teammate Lance Briggs made a similar statement about his fractured shoulder.
"The doctor says I'm supposed to be [sidelined] 4-to-6 [weeks]. I feel like I'm going to be [out] 2-to-3 and we'll meet somewhere in the middle," the veteran linebacker said Tuesday night on "The Lance Briggs Show" on Comcast SportsNet.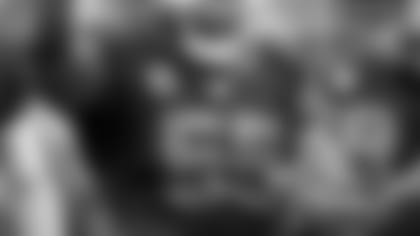 Linebacker Lance Briggs has only missed four games in 11 seasons with the Bears.
Briggs was injured Oct. 20 in the Bears' 45-41 loss to the Redskins. He was trying to shed a block and tackle quarterback Robert Griffin III in the backfield, but Washington tight end Logan Paulsen drove him into the ground and landed on top of him.
"The roughest part for me was when I went down and the guy was laying on me and my arm was separated," Briggs said. "When I stood up I knew something was wrong. I tried to get it taped up and then come back out, but right before I was going to try to go back out on the field I couldn't put my helmet on and if I can't put my helmet on I don't need to be out on the field."
The day after Briggs was injured, the Bears announced that he would be out for about six weeks. But the seven-time Pro Bowler hopes to be back sooner than that.
"I'm going to get it x-rayed each week and see how my bone is recovering, and as soon as my bone is recovered, I'll play ball," Briggs said.
Briggs has been the most productive player on a struggling Bears defense. He leads the unit with 64 tackles and nine tackles-for-loss and is tied for the lead with two sacks and two forced fumbles.
The Bears are expected to start two rookies at linebacker Monday night in Green Bay with Khaseem Greene replacing Briggs at the weakside position next to middle linebacker Jon Bostic.
"It's important for the rookies to understand that while they might be [considered] rookies, you can't be rookies right now," Briggs said. "You're professionals and you're going to have to step up and you're going to have to make plays. You have to make plays and just do your job, and that's one thing that we haven't been doing well enough defensively is everyone just doing their job.
"The defense is effective. It's stood true through the years if everyone does their job and right now that's one thing that the rookies must do; don't do more than your job, just do your job and we'll be fine."
Briggs hopes the injury-depleted defense improves without him. The Bears have permitted at least 40 points in back-to-back road games for the first time since 1969 and are on pace to set a team record for most points allowed in a season.
"You lose key players at the beginning of the year in Henry Melton, who's a big part of what we do, especially our pass rush," Briggs said. "Nate Collins, you have a banged up [Charles Tillman], then of course myself to add onto it.
"It's tough to create continuity when you always have new guys that are plugging in and we have a lot of fresh new faces on our defense that have to learn there's a specific way that we play ball."