Speaking to the media Monday for the first time since he sustained a season-ending injury Nov. 13, Bears guard Kyle Long discussed his rehab, the future of teammate Jay Cutler and more.
Here are seven things we learned from the three-time Pro Bowler and 2013 first-round pick:
(1) Long missed playing football and being around his teammates immensely.
"Got a really good support system," he said. "First time really being out like this. Initially I was like, 'Ooh, I kind of like the break.' I didn't have to hit anything. And then it's like a week into it you're going stir crazy and you realize how important the team is to your health, mentally and emotionally. We have a great group of guys regardless of record. The men in this room are guys that I love and that I really do enjoy playing with, and I'm hoping that this will be the same group of guys that can get it turned around."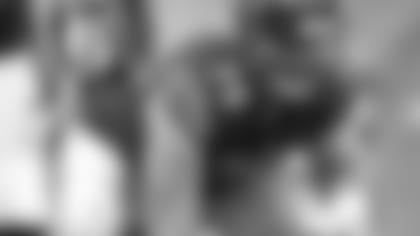 Bears guard Kyle Long discussed his rehab, the future of teammate Jay Cutler and more on Monday.


(2) Continuing to recover from ankle surgery, Long will have surgery on his shoulder as soon as he's able to walk.
"This was my first time with surgery, really, anything like anesthesia," he said. "So that sucked. I did not like that, lost a bunch of weight. Now I know this shoulder will be a lot less invasive and also won't be something that I'm walking on or trying to walk on. Being able to walk in the next few weeks will be nice."
(3) Long knows that Jay Cutler will land on his feet if he leaves the Bears and is grateful for everything the quarterback has done for him.
"I know Jay's a guy that can make the most of any situation," Long said. "He's a very positive guy. He's been so supportive of me through all my ups and downs here in Chicago. I've seen him do it for so many guys. Him being injured right now can be tough on a guy, as it has been for me [mentally]. It's really, really tough. Jay doesn't have social media. I get such an influx of support from fans. The Bears community has been awesome in that regard. I just hope he feels the same way in trying to get back because I know how much he sacrificed and has been committed to this team over the years."
(4) Long was very impressed with rookie second-round pick Cody Whitehair, who started all 16 games at center, a position he never played at Kansas State.
"He's flourished into one of the best centers in the league, and he's a rookie," Long said. "He's wise beyond his years. He's very, very, very calm and collected. He asks the right questions when he needs to. He's not afraid to ask the questions that need to be asked."
(5) Long is confident that Bears general manager Ryan Pace will upgrade the roster this offseason.
"Having played against the guys that Pace has brought in, I have all the confidence in the world that Ryan will bring in the right guys to make the offensive lines, defensive lines, secondaries, linebacking corps [better]," Long said.
(6) While the Bears were decimated by injuries in 2016, Long understands that injuries are part of the game.
"I think I'm just going to put those packing peanuts and bubble wrap all over myself next year," he joked. "I'm going to look like the 'Christmas Story' kid. It'll be summer months, I'll be in like three North Faces. Honestly, it's football. It's a tortured existence from a physical standpoint. You're never going to be healthy. Nobody's healthy. Nobody's 100 percent. You show up to camp 100 percent. You do the conditioning test and you're at 98 percent and then you try to hover in the 80s to 90s the whole year."
(7) Long recalls how close the Bears were to making the playoffs in 2013—when they lost to the Packers in the season finale with the NFC North title at stake—and uses that as motivation during his rehab.
"I just know what this city's like when the Bears win," Long said. "I had a taste of it my rookie year and I sniffed the playoffs and we lost by a close margin there. I want to get back to that. I want to go to the playoffs. I want to have 10 wins before we get to the playoffs and have an opportunity to have home-field advantage. A frickin' playoff game in Chicago, can you imagine that? Right now I know it's not something that's realistic, being 3-13 and we're in the offseason. But these are things that when I lay my head on the pillow that I think about and it keeps me up pretty late. And that's what's going to get me through this process because I know I'll be able to run through that tunnel again."