When Kyle Long received a tweet last month from the father of a nine-year-old boy who was being bullied on his school bus, it struck a nerve with the Bears guard.
Though Long is an imposing physical presence these days, standing 6-foot-6 and weighing 313 pounds, he was also bullied by older kids while riding the bus in elementary and middle school.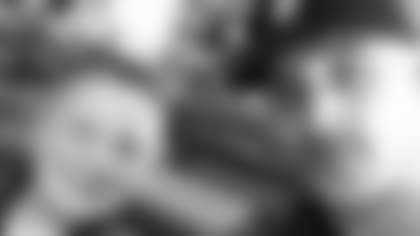 Bears tackle Kyle Long poses with Andrew Oyston Saturday at Chuck E. Cheese's.
While the father of the nine-year-old, Frank Oyston, was hoping that his son, Andrew, could simply speak with Long, the Pro Bowl offensive lineman had an even better idea.

On Saturday, Long spent the day with the Oyston family, first at Andrew's little sister Riley's birthday party at Chuck E. Cheese's in Crystal Lake, and then at their home, playing catch with Andrew in the backyard with a football.

"We just had a really fun time hanging out," Long told ChicagoBears.com. "I think it was really cool for him to hang out with a Bears player and it was really cool for me to hang out there.

"I took full advantage of some cheese pizza and some arcade games, and it was a lot of fun. I also got a chance to play catch with Andrew, and he was making some Alshon Jeffery catches; that's what he was saying, one-handers and stuff like that. Matt Forte called me while we were playing catch and he spoke with Andrew on the phone, so he got the whole nine yards."

Long empathizes with Andrew because the Bears guard was bullied while growing up in Virginia by a much older high school student he described Monday as "big" and "super scary."

"The reason it sparked my interest is I didn't have a really smooth middle school and elementary school bus ride experience either," Long said. "They had high schoolers riding the bus with middle schoolers where I grew up, and that created a strange dynamic."

Andrew thoroughly enjoyed the day he spent with his new friend.

"Kyle was amazing with the kids," Andrew's dad told ESPNChicago.com. "He was playing games with all of them and following them around. He took pictures with my daughter and Andrew, and he even held our 16-month-old son. It was really amazing.

"He came back to the house for a little bit after the party and signed some pictures. He even asked the kids if they wanted to go outside in the backyard and throw the football around. That was the kids' favorite part, playing catch with Kyle. Running around and throwing the football with him, the kids thought that was just amazing. All day yesterday my kids were outside playing catch and pretending they were Kyle Long."