Making his first start at right tackle Sunday after two years at right guard, Kyle Long helped the Bears rush for 189 yards in their season opener against the Packers. But he also committed some miscues in pass protection.
"One thing that we always emphasize is you never want to make the same mistake twice," Long said. "I had an opportunity to make a lot of mistakes [Sunday]. I think it's a learning experience. You can take positives from that.
"I thought we did a lot of great things. We ran the ball well. We ended most drives with kick; whether that's field goals, extra points or punts, that's always a good thing. Protecting the ball is paramount.
"[But] on a personal level, there were too many things that went wrong in my performance to be able to give Jay [Cutler] time to give our offense a chance to have success—or the level of success that we expect here."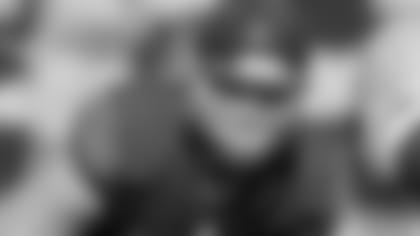 Kyle Long helped the Bears rush for 189 yards in their season opener against the Packers.
Long accepted blame for allowing blitzing safety Sean Richardson a clear path to Cutler on fourth-and-goal from the 2 in the fourth quarter. Unloading the ball to avoid a sack, Cutler overthrew Eddie Royal in the back of the end zone.
"That's my guy," Long said, referring to Richardson. "There's a reason Jay can't make that throw. It's because there's a guy with his arms up in his face. It speeds up the process of looking through your progressions."
As Long prepares to make his second straight start at right tackle Sunday when the Bears host the Cardinals, he intends to learn from the errors he committed against the Packers.
"Anybody can make mistakes," Long said. "But as a professional athlete, you need to be able to move on, take your lumps and figure out what it is and why they happened the way they did—what my role was, what possibly the defender's role was in it—and move on and try to fix that."
Long, who also yielded a sack to former teammate Julius Peppers in the opener—expected to be tested by the Packers.
"Nothing really surprised me," Long said. "I knew I was going to get everything and then some in terms of looks and stunts and twists and blitzes. That's part of the game. I'm fresh blood in the water. They want to see what the deal is over there. So I embraced the challenge."
Playing right tackle against Green Bay felt more natural to Long as the game went on.
"There's the process of getting comfortable with it," he said. "Practice speed and game speed are two different things. But as the game progresses, you get more and more comfortable."
With first-year offensive coordinator Adam Gase committing to the ground game, Kyle Long rushed for 141 yards and one touchdown on 24 carries, the fourth highest output of Forte's eight-year NFL career.
"Matt just runs so hard," Long said. "That's one of the things you can always count on with Matt Forte is that he comes to play. He gets up to work and he's going to be as prepared as anybody on the field.
"Our inside guys did a great job in the run and credit Gase for putting us in position to have success on the ground. Moving forward, we're going to have to minimize mistakes."
It's always a dark day when the Bears lose to the Packers. But with coach John Fox bringing a new attitude to the organization, at least there's light at the end of the tunnel.
"We wish we could be 1-0 right now," Long said. "But from the standpoint of the fight that we had and the resilience that we had out there at the end of the game, it speaks volumes of the culture that's being instilled here and the demeanor that's being instilled here in our players by our coaching staff."