Jordan Lynch seems to possess the instincts to succeed as an NFL running back. After all, the Bears rookie rushed for 3,735 yards and 42 touchdowns the past two seasons while playing quarterback at Northern Illinois.
But there are other aspects of his new position that Lynch must master. To earn a roster spot with the Bears, the 6-foot, 220-pounder likely will have to prove that he can pass block and contribute on special teams, two tasks he wasn't asked to do with the Huskies.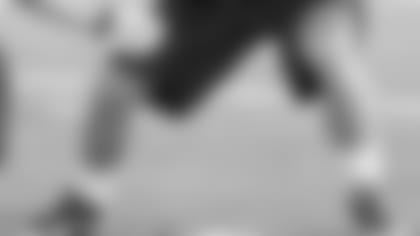 Jordan Lynch participates in a special teams drill during Bears rookie minicamp.
Lynch appeared to be willing and eager to learn how to block over the weekend at the Bears' rookie minicamp, which is half the battle according to coach Marc Trestman.
"I think he understands football," Trestman said. "He's been watching it a long time and hearing coaches coach it, and he's got the 'want-to' to do it. A lot of blocking, pass protection, first you've got to want to do it.
"It's not an easy task to block these players coming at you with the speed that they're coming. But he knows how to play football and we're going to work real hard to teach him those techniques."
Running backs coach Skip Peete has been working closely with Lynch on those fundamentals.
"We've taken guys over the years who didn't want to block and didn't have any idea how to wanting to block and knowing how," Trestman said. "He wants to, so we have 50 percent of it done. Now we've just got to teach him."
The Bears place a huge emphasis on pass protection, and not only with their offensive line. Before the draft, general manager Phil Emery said the No. 1 attribute he was seeking in a running back was the ability to block.
"A running back is really part of the offensive line, part of the protection package," Trestman said. "So it's critically important to the success of an offense that a quarterback has got to feel comfortable with the guy standing next to him and behind him. If he doesn't feel good about that guy being able to pass-protect, there's a ripple effect throughout our offensive football team."
Lynch will also have to perform well on special teams-as third-string running back Michael Ford did last season as a rookie after sitting out the first three games.
"It's going to have to help [Lynch] make the team," said special teams coordinator Joe DeCamillis. "That's how Michael Ford started playing. He really got better in the kicking game and starting playing as a cover guy. Whoever that [third running back] is, we've got to make sure that they bring that value to the game. They've got to be a viable special-teams player."
Lynch impressed DeCamillis with his effort in special teams drills during rookie minicamp.
"He's a very willing, good athlete," DeCamillis said. "That's the first part of it. He's able to do it. But [he's] going to have to do it in the preseason. He's got to get some reps in the preseason and see if he can do it. Hopefully we'll have a good decision to make on him."
Lynch told reporters over the weekend that he had no qualms about switching positions—even after finishing third in Heisman Trophy balloting—and will do "whatever it takes to stay in the NFL."
"I'm impressed, certainly, with his desire to learn, to pick this thing up," Trestman said. "He's in the meetings, he's sitting in the front row. He must still think he's a quarterback in that regard. I'm not saying he thinks he should play QB—I'm not saying that, I'm not going there—he's all-in on trying to do the best he can. He's said it already, he'll do whatever he can to make the football team, and I believe him. I think that's the type of man he is."