Patrick Mannelly hopes to return to the Bears for a 17th season, but the veteran long-snapper isn't sure whether his surgically-repaired hip will allow that to happen.
"[As] athletes, you never want to quit," Mannelly said Tuesday at Maryville Academy in Des Plaines, where he was honored as the Bears' recipient of the Ed Block Courage Award. "My heart and my head are there, but you have to be smart and listen to your body."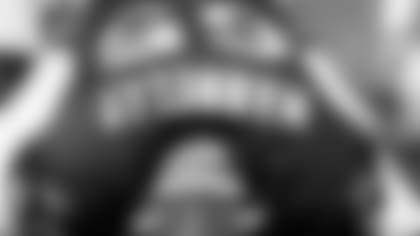 Patrick Mannelly has played a franchise-record 16 seasons with the Bears.
Mannelly, who underwent hip surgery in January, will fly Tuesday night to San Diego, where he will continue his rehab work at EXOS with the facility's founder and president, Mark Verstegen, a highly-regarded and innovative athletic trainer.
Mannelly said that he's three months into a four-to-six month rehab and is heading to EXOS because he wants to give himself the best chance to continue his playing career.
"It's something where I would feel bad if I didn't give it everything I had and just [slacked off] through the offseason," Mannelly said. "And I'm not going to do that because I truly want to put myself in a position where I get sore and hurt every day and see how much I enjoy it and see how I bounce back the next morning."
Mannelly has played more seasons (16) and games (245) than any individual in Bears history. He said he likely will re-sign with the only NFL team he's played for or retire.
"It would be tough to put on another helmet for another team," said Mannelly, who was selected by the Bears in the sixth round of the 1998 draft out of Duke.
Mannelly, an unrestricted free agent who will turn 39 later this month, revealed that he has had discussions about his future with Bears general manager Phil Emery, saying: "I think Phil and I have a good relationship. We've been talking and we'll see how things work as we go along."
Mannelly is not upset that the Bears on Monday signed long-snapper Chad Rempel, who spent the past 10 seasons in the Canadian Football League.
"It's a smart move," Mannelly said. "I think Phil Emery should do that. I'll be 39 this year and don't know if I'll be back. They need to take care of their roster."
Asked if he has created a deadline to determine whether he can continue playing, Mannelly said: "We really haven't set anything in stone. I have some dates in my mind that I've set where I want to reach certain plateaus and goals to get ready for the season, so we'll see.
"You always want to be better. There are still days I wake up and [feel], 'I'm sore and this hurts,' and then some days I wake up and it feels great. That's part of the timing of this injury, so we'll see."
Mannelly hopes to return to the Bears in 2014 in part because the team boasts an explosive offense along with a defense that has been revamped in free agency after struggling last season.
"I was talking to a fan the other day and he was like, 'You're going to be awesome next year,' and I'm like, 'We have a good chance of that,'" Mannelly said. "It's great to see Phil Emery make the moves he's making. Last year he did it, we were all in offensively, but unfortunately our defense didn't play well and he's doing everything he can to help them bounce back, and that's encouraging."