When long-snapper Patrick Mannelly steps on the field Sunday against the Indianapolis Colts, he will become the first individual to play 15 seasons with the Bears.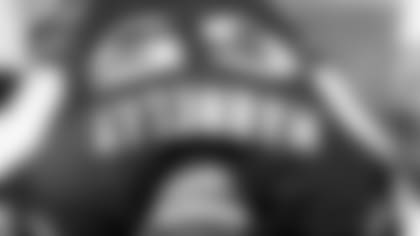 Patrick Mannelly will begin his Bears-record 15th season Sunday against the Colts.
A 1998 sixth-round draft pick from Duke, Mannelly previously shared the mark of 14 seasons with linebackers Bill George (1952-65) and Doug Buffone (1966-79).

"It's an honor," Mannelly said. "I'm very fortunate to play for the charter franchise in the NFL as long as I have. A lot of players have played many years here, and to say that I've played the most years is an honor. Like I said, I'm just fortunate to be in one city for as long as I have, especially in Chicago, which has a great franchise and great fans."

If Mannelly had been told during his rookie season that he would still be playing with the Bears in 2012, he would have been a bit cynical to say the least.

"I would have said you're crazy," Mannelly said. "I thought this would be kind of a head start in life; I'd play three or four years and then do a real man's job. It's your dream when you're a little kid to be able to do this and to still be doing it at 37 years old I feel very lucky."

Some of Mannelly's current Bears teammates were still in grade school when he entered the NFL.

"They definitely keep you young, and I think that helps out a lot," Mannelly said. "I joke each year I learn new music. I'm still stuck in my old '80s or early '90s music. I guess you could say it keeps you hip because you know what's going on in today's pop culture."

Mannelly's career has been about much more than longevity. He has been and still is one of the NFL's best long-snappers, delivering an errant snap about as frequently as Halley's Comet passes the earth while also making tackles on punt returns.

Mannelly has also been durable, playing in a franchise-record 215 games. He only missed three contests in his first 13 seasons before suffering the first serious injury of his career last year when he sat out the final six games with a torn ACL.

Mannelly has recovered fully from that injury and has no plans to stop playing.

"I'm obviously toward the end of my career," he said. "Retirement comes into your mind as you get older. But I've told my dad a lot that I want to play as long as I can. I want to keep myself invested as much as I can every year and then when the time's over the time's over."