INDIANAPOLIS — Johnny Manziel measured a shade under six feet Friday at the NFL Scouting Combine, but the Texas A&M quarterback doesn't see his lack of a height as a negative.
"I play with a lot of heart, play with a lot of passion," Manziel told reporters in Indianapolis. "I feel like I play like I'm 10-feet tall. A measurement to me is just a number."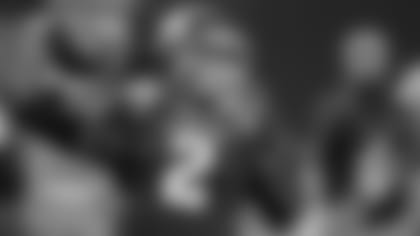 Texas A&M quarterback Johnny Manziel won the Heisman Trophy as a redshirt freshman in 2012.
Manziel played like a giant in two seasons at Texas A&M, passing for 7,820 yards and 63 touchdowns and rushing for 2,169 yards and 30 TDs. "Johnny Football" exploded onto the scene in 2012 when he became the first freshman to win the Heisman Trophy.

As he prepares to enter the NFL Draft, Manziel said Friday that he's grown on and off the field.

"I think you look at on the field stuff, from freshman year until what I was this year, I tried to really hone in on some things this year, get better in the pocket and continue to develop as a passer.

"Off the field, [there has been] some scrutiny, but I'm continuing to learn from my mistakes and continuing to grow up. I have an opportunity now moving into a professional phase. This is life now, this is a job me for. I'm taking it very seriously and I'm really excited about the future."

A tremendous scrambler, Manziel possesses the ability to make something out of nothing. But he's determined to prove that he's much more than that at the next level.

"I'm looking forward to shoring up all the people that are saying that I'm just an improviser," Manziel said. "I feel like I worked extremely hard this year to all-around hone my game. Working out in San Diego, I'm continuing to do that and getting better as a pocket passer and as a quarterback in general."

ESPN draft guru Mel Kiper Jr. predicts that Manziel will be selected by the Texans with the first pick in the draft, writing: "In Manziel, you get a quarterback who in my opinion is ready to play NFL football and make plays, and is preparing with the goal of helping a team right away."

Manziel feels that it would be an honor to be the first quarterback chosen in the draft.

"It would be awesome," he said. "When you put in a ton of hard work, it's a huge testament to my coaches and teammates all the way from when I first started playing this game. It's been a long process, not just a short road to get here.

"Now I just have to hone in on some things and at the same time enjoy the process. Whatever happens is really meant to be. It's out of my control. I just have to come in here, be honest with these teams, get a chance to sit down and know some of these guys and really get to see a side of me."

Asked what makes him special, Manziel said: "I'm probably one of the most competitive people on the face of this earth. Whether it's sitting here playing tic-tac-toe or rock, paper, scissors or whatever it may be, I want to win. It's something that really dates back all the way to being a kid. I don't like the taste of losing; it leaves a really sour taste in my mouth. I'm an extremely competitive person. At the same time I want to be a great leader as well."