When new Bears coach Marc Trestman spent a couple days helping quarterback Jay Cutler prepare for the 2006 NFL Draft in Raleigh, N.C., the conditions weren't exactly ideal.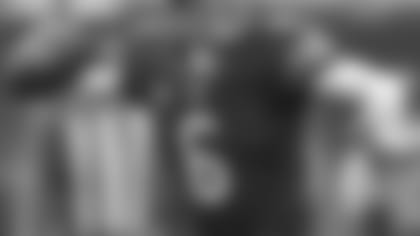 After meeting with quarterback Jay
Cutler earlier this week, Bears head coach Marc Trestman is eager to begin working with him.
"It was raining," Trestman recalled Thursday during his introductory press conference. "We had no facility and no receivers. So we basically sat in a room for two days and stared at each other.
"It was a difficult environment to try to get the most out of somebody. But when I sat with him I found out he had some very core capabilities. He was tough, he was smart and he loved football."
Meeting with Cutler earlier this week at Halas Hall, it was clear to Trestman that the quarterback isn't the same player or person he was seven years ago.
"He's a different guy," Trestman said. "He's in-tuned to where he is and where he wants to go. He understands where his strengths and his weaknesses are and he wants to go forward.
"I can't wait to get my hands on him and go to work with him, and I think he's ready. We're going to try to put a system of football and put people around him that can help him be the player that he wants to be. That's the exciting part, and we'll get started today."
Trestman joins the Bears after spending 17 seasons as an NFL offensive coordinator and position coach and the last five years as head coach of the CFL's Montreal Alouettes.
One of Trestman's main attributes that enticed the Bears was his track record developing quarterbacks. Under his tutelage, Steve Young helped the 49ers lead the NFL in scoring and passing yards in 1995, the Raiders' Rich Gannon was named NFL MVP in 2002, and the Alouettes' Anthony Calvillo won back-to-back league MVP awards in 2008-09.
"Every quarterback is special at the professional level," Trestman said. "It is so hard playing the quarterback position. Are you kidding me? It's the most difficult position to play in all of sports.
"Quarterbacks have to have multiple levels of ability from a physical, mental and emotional [standpoint]. It all goes hand-in-hand. Then they have to be wired to handle the chaos of a pass rush and finding the open guy amidst all this chaos when people are trying to knock them down.
"These guys are tough guys. They are gym rats. They are wired differently. That's why I've always been attracted to working with these guys because there is so much involved on a day-to-day, week-to-week, month-to-month, year-to-year basis that these guys have to go through. That's why we really have to respect them. It's the toughest job in all of sports."
After meeting with Cutler earlier this week, Trestman is eager to begin working with him.
"I went in there to have a chance to be able to see if we could connect, and we connected immediately," Trestman said. "We could have sat in there all day and talked football.
"This guy loves football. He wants to be great. Hopefully we can give him some direction and some protection not to waste a play; to complete a throwing motion and to get the ball to the right person. That's what we're here to do."
Trestman understands that his relationship with Cutler will be extremely important.
"The No. 1 marriage in all of sports is the marriage between a quarterback and his coach," Trestman said. "That's it. It starts there. Everything proceeds from there. There has to be a connection and an element of trust, professional trust that you have to have.
"We don't have that yet certainly, but there are indications we got started in the right place. He loves football and I love football. We are going to have two passionate guys in the room trying to win games for the Chicago Bears, and that's a pretty good start."
In just 56 games with the Bears, Cutler has become the franchise's all-time leader in passer rating (81.9) and completions (1,034) while ranking second in yards (12,292) and touchdowns (82). But he also has struggled with consistency since being acquired in a trade with the Broncos in 2009.
Asked Thursday if he feels that Cutler is a franchise quarterback, Trestman said: "Jay Cutler is a guy who loves football, a guy who is willing to learn. Jay Cutler to me in my very short time with him wants to do everything he can to help this franchise and please our amazing fans.
"That's where we are going to start. We're going to work one day at a time in a proactive way with a sense of urgency to get him to be the guy he wants to be and we want him to be."