The Bears suffered their first major injury of training camp Monday when receiver Marquess Wilson fractured his right clavicle while diving to haul in a long pass in the end zone.
The 2013 seventh-round draft pick landed hard on his right shoulder. He jogged back to the huddle, but was carted to the locker room moments later. No timetable was given for his return.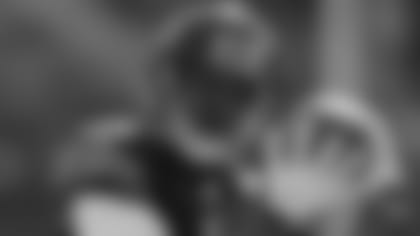 Second-year receiver Marquess Wilson suffered a fractured right clavicle in Monday's training camp practice.
After showing promise as a rookie last season, Wilson had been excelling in training camp, tightening his grasp on the No. 3 receiver position behind Brandon Marshall and Alshon Jeffery.
"I'm extremely disappointed," coach Marc Trestman said about losing Wilson. "He was continuing to ascend. That's football, unfortunately. We will pray for his recovery."
With his right arm in a sling, Wilson spoke to the media briefly outside the dining hall, saying he plans on returning at some point this season but doesn't know whether he will need surgery.
"When things happen like this, you've just got to look at them and say it was in [God's] plan," Wilson said. "You've just got to keep faith and stick it out and pray for the best."
Although Bears coaches repeatedly tell players to stay off the ground during practice, Wilson couldn't keep himself from diving for the ball when he saw it floating in his direction.
"I was just trying to make a play," Wilson said. "It's an opportunity. Being a receiver, I saw the ball and in my mind I said, 'go get it.' It was just second nature. I look back at it and I probably shouldn't have done it. But it just happened."
Trestman conceded that it's tough for players to resist the urge to do whatever they feel is necessary to make a play in training camp.
"That's the hardest part about coaching in practice," he said. "You hear us say it all the time: stay off the ground, and diving for balls is one of the most difficult things not to do when you're a competitive player. We promote it. We talk about it a lot. But in my experience it's very difficult to stop. When they do, you just try to encourage him on the next play to stay up. Unfortunately, he tried to make a play and we know what happened."
Wilson vowed to maintain an upbeat attitude and rebound from the injury.
"You can't be down on it," he said. "You've just got to feed off of this and then come back even stronger. That's what my plan is to do; come back stronger when I get healthy and keep working."
Wilson had been impressing coaches and teammates in practice, especially the past few days. He made leaping catches down the left sideline over Kelvin Hayden Friday and Kyle Fuller Saturday and hauled in a long pass Monday before getting injured.
"He's been having an excellent camp," said tight end Martellus Bennett. "He's been consistently making plays. He's been working so hard and he's been stepping up. It's going to be hard shoes for us to fill because he's been doing a great job. It's hard for a young man like that who's been coming on and giving us everything he has every single day."
On their first unofficial depth chart the Bears released Sunday, Wilson was listed behind Marshall and ahead of Josh Bellamy, Chris Williams and Armanti Edwards. At the other receiver position, Jeffery was ahead of Eric Weems, Josh Morgan, Micheal Spurlock and Dale Moss.
Speaking to the media immediately after practice, Trestman declined to discuss how Wilson's injury would impact the competition for the No. 3 receiver position.
"Let's let this thing simmer for a day and let's respect the situation that's happened," he said. "I know the next question is 'what's next,' and there will be a time and place for that. I would just ask that we respect that today and we'll move on at the right time."