During his press conference Thursday, Bears receiver Brandon Marshall got emotional when discussing the impact that coach Marc Trestman has had on him as a player and person.
"I've played for some great coaches," Marshall said. "Coach [Mike] Shanahan was a great coach, X's and O's, one of the best in the business. What I'm about to say about coach [Trestman] has nothing to do with football: Best in the business. So thankful that you're here, coach. Coach is amazing. He's a man that I look up to. He's a man that I would like to be one day.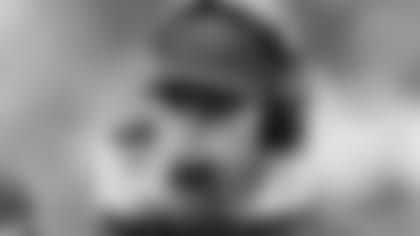 Marc Trestman is entering his second season as Bears head coach.
"The culture that he's forming here with the help of Phil [Emery] and the McCaskeys and everyone upstairs, I've never been around it. He puts us in position every single day to grow as men. To be honest, I don't think we would be sitting here if it wasn't for coach and me believing in him and his coaching staff. He's a man's man. He knows how to lead alpha males."
Thursday's press conference was held in the wake of Marshall agreeing to a three-year contract extension on Monday. With Trestman watching the proceedings from the back of the room, Marshall told a story about how the coach pushes in chairs and picks up trash even after the team arrives back at Halas Hall from road games at three or four o'clock in the morning.
"He teaches everyone how to serve, not by words but by his actions," Marshall said. "So I thank you, coach, for what you're doing in my life and with all these young men in the locker room. What you're doing has nothing to do with football but has everything to do with football.
"I thank you for your leadership and your guidance because it's a trickle-down effect. You really are affecting every single man and woman in this building, on the planes, every person you come in contact with."
While a big fan of the coach, Marshall conceded that he wasn't totally comfortable with Trestman until after their first training camp together last summer.
"I was nervous at first, man," Marshall said. "You got a new coach coming in and you're fighting for positions. You want to know if you're his guy. He was saying all the right things, but it's like, 'Man, is this guy that amazing? Is he lying to us?' So just his love and his approach every single day, it was constant and after a few conversations sitting down I was like, 'Man, this guy is legit.'"