Brandon Marshall's outburst after last Sunday's loss to the Dolphins remained a hot topic of conversation Thursday at Halas Hall, especially during Jay Cutler's weekly press conference.
The two have been teammates for six NFL seasons—three with the Bears and three with the Broncos—so Cutler wasn't surprised when Marshall vented following the disappointing defeat.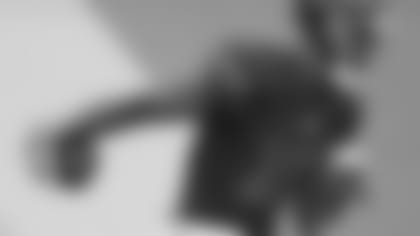 Brandon Marshall has caught 31 passes for 349 yards and a team-high five touchdowns this year.
"He's an emotional guy," Cutler said. "Whenever he gets frustrated he's going to get emotional most of the time. He's going to speak from the heart and he's going to make sure that everyone else around him hears. It wasn't anything that caught us off guard or was off-putting. It was frustration coming out and him just letting us know that it's important to him."

Contrary to some media reports, Cutler confirmed Thursday that Marshall did not call out the quarterback or any other teammate during his tirade.

"He didn't come near me," Cutler said. "He didn't say my name. I don't think he attacked anyone personally with what he was saying."

The Bears moved past the incident almost immediately. Asked by a reporter how players have responded to it, Cutler said: "I think some people are indifferent. Some people are responding well to it. I don't think anybody's taking it negatively.

"It was a frustrating loss for all of us. I think once guys left the locker room, that's kind of where it died. We moved on Monday and Tuesday and we practiced Wednesday."

Cutler said that he has spoken with Marshall throughout the week as they prepare for Sunday's game against the New England Patriots at Gillette Stadium.

"I talked to him on Monday," Cutler said. "He was good on Monday. Tuesday, he does his [television] show and then yesterday he had a really good day.

"Brandon wants to win. He wants to see this team do as well as possible. I understand his frustration. We all go about it in different ways when we're frustrated, and that's how Brandon handled it at that moment and we moved past it."

Asked how he personally deals with deflating losses, Cutler said: "You talk to coaches. You break it down. You go back to work. That's the only thing you can do is just go back to work and try to fix things and move onto the next [game]."

Marshall's outburst was heard by reporters who were standing just outside the locker room in part because the door was open for players who were still on their way in from the field.

"Brandon wasn't the only one that was frustrated in the locker room," Cutler said. "Brandon was probably the only one you guys heard in the locker room. It is what it is."

Moving forward, running back Kyle Long is not concerned about Marshall upsetting team chemistry.

"Brandon knows how to control himself," Forte said. "If I'm frustrated, I'm going to speak out too. Brandon is an emotional guy and when his emotions get that high he's going to speak out on stuff like that, so there's no detriment to the team with anything Brandon does or when he's speaking.

"Most of the time when Brandon's speaking out, he's just trying to get everyone fired up. Especially after the game last Sunday, he was just mad about the type of game we played and he knew the kind of guys we had in the locker room. He was just trying to make sure we weren't OK with losing. Just like winning can be a habit, so can losing."