With domestic violence cases dominating NFL headlines, ESPN decided to re-air a two-year-old feature this week on its "E:60" program about old abuse allegations against Brandon Marshall.
During a 40-minute press conference Thursday at Halas Hall, the Bears wide receiver blasted ESPN for not only ignoring key facts but for lying to him about what the feature was about. The allegations discussed on the program occurred in 2006-08 when Marshall played for the Broncos.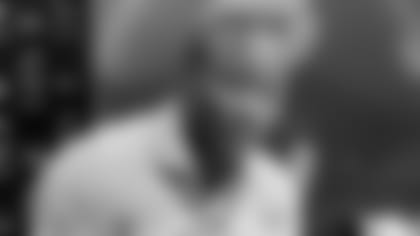 Brandon Marshall reads from the packet of documents he distributed to media members Thursday at Halas Hall.
"This is a tough situation," said Marshall, a mental health advocate who has been a model citizen since joining the Bears in 2012. "It's really tough because in situations like this, you're not going to hear people defend themselves. There are certain things where, if you get defensive, if you speak your mind, you're going to be judged and you're going to make yourself look worse.
"For six or seven years I've sat back and accepted my part in everything that I've done, everything that I've been a part of and I've listened to representatives say, 'Listen, you can't win this one.' And you can't. There's no need to try and win it. But I refuse to sit back and continue to let ESPN or any network or outlet exploit my story because they don't know the real story."
Marshall gave media members a 12-page packet of public documents that he claims ESPN had access to but did not include in the feature about his history with domestic violence.
One of the pages is a letter from Marshall's ex-girlfriend, Rasheedah Watley, to NFL commissioner Roger Goodell in which she writes: "I will let you know that he never hurt me or hit me. I was pressured by my family to make up certain things to get money. I was told to say that Brandon hit me and hurt me so that I could get him to pay to keep me quiet. I want you to know he never did."
There are other letters in the packet from lawyers demanding Marshall pay $100,000 and $500,000.
"ESPN really does know the story because they were sent those packets with both sides of it," Marshall said. "That's what's so upsetting; when someone can sit in my living room and look me and my wife in the eyes and say, 'Listen, this story is about what you guys are doing today. This is about your camp, your community weekend.' And then they use our story and sensationalize it to sell magazines and get better ratings. It's time to stop."
Marshall concedes that he and Watley were involved in "a very volatile relationship," saying: "We argued every single day. We treated each other bad. We had no business being in a relationship. It was just disgusting the situation that we kept ourselves in." But the Bears receiver doesn't feel that excuses ESPN for not presenting both sides of the story.
"I think ESPN owes my wife and I an apology because that's the third time they did it," Marshall said. "They had all of these things, the demand letters, the testimony from judges and bailiffs about the pictures that they showed on ESPN depicting a black eye where a judge and a bailiff talk about how those were false.
"This is unpopular what I'm doing. There's going to be a lot of people criticizing me. But it's been six or seven years and I haven't said anything. I thought that giving this stuff to the network, ESPN, they would tell the right story, just to show my side, just to show both so everyone can heal and grow from this. But they didn't. They didn't choose to do that."
Marshall revealed that his mother was physically and mentally abused and sexually assaulted when he was growing up, and that his grandmother, cousins and aunts were also sexually assaulted.
Marshall is disgusted by some of the recent stories involving NFL players, saying: "Domestic violence is wrong. I hate to bring up someone else's name, but the Ray Rice case is terrible. The things that I've been through in the past are terrible. I believe that there should be consequences."
Marshall feels just as strongly, however, that the public should not rush to judgment without knowing all the facts. He cites a 2012 incident when he was out with his wife, Michi, in New York City after a charity event. A fight erupted near them and she was struck in the face by a bottle.
"My wife's mouth was just split open and bleeding and chaos broke out," Marshall said. "There were people fighting and mayhem. I'm holding my wife and this young lady comes outside and she said, 'Brandon Marshall hit me' because I was the big name in that place.
"Well, nothing came of that story because there was video surveillance that showed me holding my wife, blood all over my wife, blood all over me, and showing that I never hit [the woman]. That is the problem and that's why we have to really let these things play out.
"We need to get all the details before we can play judge or jury because there are two sides to every story."