Three days after Brandon Marshall signed a three-year contract extension with the Bears, the press conference the Pro Bowl receiver conducted at Halas Hall had little to do with the new deal.
Marshall's focus during the 30-minute session Thursday instead was on thanking all those who have helped him not only excel on the field but make a remarkable transformation off of it.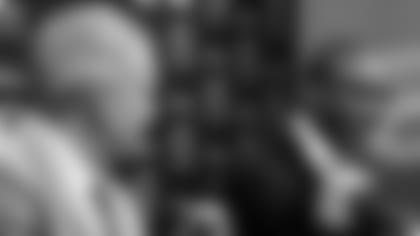 Brandon Marshall addresses the media while Phil Emery looks on Thursday at Halas Hall.

Marshall thanked his wife, his agent and virtually every member of the Bears organization, including ownership, management, coaches, players, administration, groundskeepers, trainers and those in the communications, equipment, marketing and community relations departments—mentioning them all by name.

"I'm naming these people because this is a first-class organization," Marshall said. "I want to thank this group of men and women because every single day, they make it so easy to come to work. Comfortable. It's fun.

"I've been in two other places. Denver was a first-class organization and Miami has a lot of history. But this place is the best and it's because of the people."

Marshall's superior talent as a physically-dominant playmaking receiver has never been in doubt. But early in his career, the 6-4, 230-pounder was known just as much for the character concerns that stemmed primarily from his multiple brushes with the law.

Fast forward to his two seasons with the Bears and the 30-year-old has been not only a model citizen off the field but a record-breaking receiver and team leader. Marshall has taken young receivers under his wing and welcomed several teammates to his home in Florida to work out and participate in team-building activities such as paintballing, pottery and go-cart racing.

On Thursday, Marshall acknowledged that the trade that sent him from the Dolphins to the Bears
on March 13, 2012 was "life-saving and career-saving." The deal reunited him with close friend and former Broncos teammate Jay Cutler.
"The transformation started in my life before I was traded here," Marshall said. "But I think it was career-saving. I don't think I'd be sitting in this position talking about an extension. I probably wouldn't even be having the success that I was having on the field in that environment [in Miami].
"It wasn't right for me. So I get back with my buddy Jay, and having his leadership and his brotherly love really helped. But it was also the people, the whole list of people. You guys know how great this organization is. For me, it's a safe environment."
Marshall revealed that he first discussed the possibility of being traded to the Bears during a phone conversation with Cutler early in the 2011 season.
"I was like, 'Man, that would be cool, but I don't think they'll do it. They're way too conservative and I have a past,'" Marshall said. "Fast forward a few months, I'm sitting in a hotel in Boston with my wife and my agent calls and says, 'Man, you've been traded.'
"We made a list of three [possible trade destinations] and Chicago was No. 1. I wanted to be back with Jay. I wanted to be in Chicago. I didn't even know anything about the history to be honest. I didn't even know anything about how great this city was, but I wanted to be back with Jay. So that was another prayer answered."
Trading for Marshall was Phil Emery's first big move after becoming Bears general manager.
Looking at Emery next to him on stage at Thursday's press conference, Marshall said: "I think it paid off for both of us. That was a bold move. I don't think there were any other teams that would have pulled that one off.
"I really appreciate you. There are so many times when you've just embraced me and accepted me for who I am. After tough losses that pat on the back, that tight hug to get me through, it means a lot and says a lot about who you are and how you're running this whole deal."