With Jay Cutler facing a barrage of criticism since last Thursday night's loss to the Packers, Bears receiver Brandon Marshall on Wednesday stanchly defended his longtime friend and teammate.
Marshall told reporters during a lengthy press conference that he loves Cutler's passion for the game and fiery temperament, even if it means occasionally being yelled at on the field.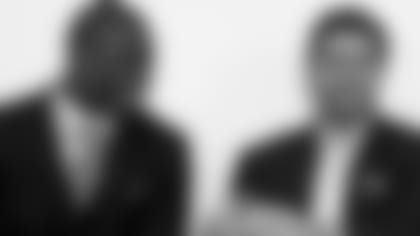 Brandon Marshall and Jay Cutler share a laugh during a press conference at Halas Hall last March.
"What people need to understand is everybody's different," Marshall said. "I'm not trying to be Larry Fitzgerald. I'm not trying to be Andre Johnson. And it's the same with Jay. Jay's who he is.
"Whenever you get outside of yourself, I think that's when you create problems. That's something I learned in my own personal life. You have to be who you are. So when Jay is not fiery, that's when I'm going to have a problem. I'm going to want to play with a different quarterback.
"That's the reason why I wanted to be here; that's the guy I wanted to play for."
Some observers saw a discrepancy with how Cutler treated two teammates after they made mistakes in Green Bay. He yelled at and bumped J'Marcus Webb after the left tackle allowed a sack but sat next to Marshall and tapped him on the head after the receiver dropped a sure touchdown pass.
"If you go back early in the game you'll see him yell at me," Marshall said. "A lot of people say, 'Yeah, he tapped you on the head.' No, Jay got in my ear a little bit, too, and he got me going.
"It was a play where we had maybe 10 seconds left [on the play clock] and I was supposed to come in motion. I was relaxing out there, and he had to call time out and he just ripped me. I was like, 'You're right, let's go.' He got me going so my antennae are up and we'll move forward."
Listening to and reading media speculate about whether Cutler should be the Bears' long-term answer at quarterback the past few days has amused Marshall.
"That's what makes this Chicago market great," Marshall said with a laugh. "I mean it's Week 2 and we're talking about drafting another quarterback or something. I love this market already.
"I think we all forgot that last year before he got hurt I think he was playing the best at the position, and I think that's a fair statement. You look at what he was able to do and it was amazing watching him from another team just as a fan of the sport.
"Jay is a guy that can be one of the best that's ever done it, and it's on us to be better around him. I have to make more plays. I have to make better plays. Given the opportunities, I have to come down with the ball. If I can do my part and the guys around can do their part I think we'll be able to move in the right direction."
While one player in nickel back D.J. Moore told reporters that he felt Cutler crossed a line by bumping Webb, Marshall is convinced that Bears players believe in their starting quarterback.
"There's no doubt in my mind," Marshall said. "Guys love Jay, defensive guys to offensive guys to the coaches. Jay is a guy that everyone wants to play for and we're going to continue to do that."
Marshall always felt that way, but never more so than after he and Cutler met for dinner to watch the NFL Draft in April.
"I've never seen someone with so much passion, so much love for the game," Marshall said. "It was our conversation. It was his plans, what he wanted to accomplish moving forward. We talked about a lot. We talked about our team. Pretty much everything was about winning.
"When you look at somebody you can see the passion, see where their heart's at. It was one of the best conversations I've ever had with anyone. We sat there for four or five hours; we shut the place down. I really appreciated him after that conversation and look at him in a totally different light as far as a leader and a competitor."