Brandon Marshall has played in only one Bears-Packers game, but that evidently was enough for the star receiver to gain an appreciation of the fierce rivalry and a disdain for Green Bay.
"I don't like the Green Bay Packers," Marshall said Wednesday at Halas Hall. "I'm not going to use the word hate, but I really dislike the Green Bay Packers and their players."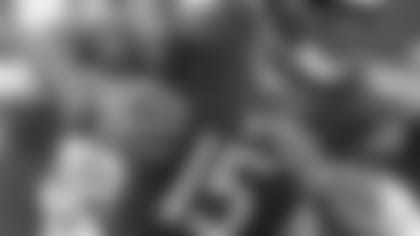 Receiver Brandon Marshall leads the NFL with a Bears-record 101 receptions.
Facing bracket coverage from a cornerback and safety throughout a 23-10 loss to the Packers Sept. 13 at Lambeau Field, Marshall was held to two receptions for 24 yards.
In preparing for Sunday's rematch at Soldier Field, Marshall's motivation level is at an all-time high, due in large part to comments that Packers cornerback Tramon Williams and safety Charles Woodson made about shutting down Marshall in the first meeting.
"This is the biggest game of my career," Marshall said. "So I'm excited about it. I had this game marked since we played them last. I heard exactly what [Williams] was saying after the game. Those guys do a lot of talking, so this game is personal for me.
"We all know about the rivalry. We all know what's at stake, so I'm going to play like it's my last game and I'm pretty sure all the guys on the offensive side will do the same. I've never felt this strongly in sports versus any team or players."
Marshall believes that Packers defensive coordinator Dom Capers deserves the credit for limiting his effectiveness in the Sept. 13 game, not individual Green Bay players.
"Coach Capers, he's their player MVP," Marshall said. "For their players to be over there talking about how awesome of a job they did shutting down certain players, I don't respect that when they have two or three guys on me. Coach Capers did an amazing job of game-planning us and game-planning me. I didn't beat double or triple coverage or whatever they were throwing at me.
"I take it as a slap in my face when guys talk about my lack of ability to do something against them when they had help all over the place. I'm looking forward to one-on-one coverage. Hopefully those guys, in a game like this, will go to their coach and say, 'Let me have him. I want Brandon Marshall. I want to stop Brandon Marshall. Let me have one-on-one press coverage.'"
Although Marshall said that he hoped Woodson would play Sunday, the Packers announced later Wednesday that the veteran would miss his seventh straight game with a broken collarbone.
Williams, who intercepted two Jay Cutler passes in the Week 2 game in Green Bay, will be on the field Sunday. He told FOXSports.com earlier this year that Marshall breaks rules to gain an advantage.
"If there's anybody who likes to bend and break the rules, it probably would be Brandon Marshall," Williams said. "Some of the things he does he shouldn't be able to do against press coverage. He's one of those guys where he wants you to put your hands on him so he's going to grab you and throw you. I'm like, 'Mr. Ref, he's not fast enough to get on top of me. How do you think he got on top?' He has some tricks to him."
Asked about the Packers cornerbacks, Marshall said: "They're not physical at all. They play off a lot. Leading up to the game they were complaining about how big I was and I was a cheater because I grabbed and pushed at the line of scrimmage. I thought that's what press coverage was about.
"They put them all inside and put a safety over the top and linebackers running out to me. They had a bunch of things and it was good. But we won't make that mistake again. We won't force the ball to me. We'll lean on other guys. Guys will step up and make plays."
Marshall doesn't expect to engage in any playful banter with Packers players Sunday.
"No, like I said, this is personal," he said. "I respect the things that they have accomplished. I respect where they're at. I'm always going to respect my opponent, but all that shaking hands stuff, it's not going to happen. I've never been shut out in one-on-one coverage ever in my life."