Leave it to Martellus Bennett, recently dubbed "the most interesting man in Chicago" by a local magazine, to explain how confident the Bears are in Josh McCown replacing the injured Jay Cutler.
"It's just like eating Cheerios and having Corn Flakes," said the veteran tight end. "They're pretty much the same. They both get the job done. You've got to add sugar to both, though. We are the sugar and the flavor of the offense. As long as they don't get soggy, we're good."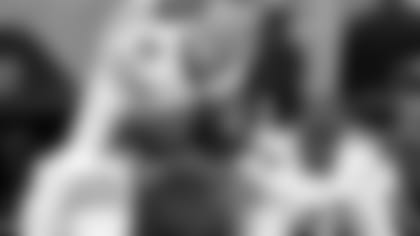 Josh McCown (12) joins Jay Cutler, quarterbacks coach Matt Cavanaugh and Martellus Bennett for a study session on the sideline Sept. 29 in Detroit.
Bennett sees little difference in the two quarterbacks in terms of their demeanor in the huddle.
"They both are pretty calm," Bennett said. "Jay is pretty calm, Josh is pretty calm. We all know Josh and we all love Josh. Every time he talks, I always tell him to tell us a scripture because he's a God-fearing man.
"He's just a great guy to be around, whether it's at lunch or in the huddle. He's been doing a great job for us in practice and everything, so I look forward to getting out there and being one of the guys to catch a pass from him in the games."
With Cutler expected to miss at least four weeks after suffering a torn groin muscle Oct. 20 against the Redskins, Bennett said that he intends to befriend McCown.
"I was joking with the guys because I was like, 'Hey, Josh, want to go to dinner this week?'" Bennett said. "I was like, 'Cutty's not my BFF for a couple weeks, so I'm going to make friends and Josh is my new BFF.' I'll invite him to the house, see if he wants to play some video games, hang out, things like that. So I've got a new BFF for a couple weeks."
After Cutler was injured against the Redskins, McCown excelled in relief, completing 14 of 20 passes for 204 yards with one touchdown, no interceptions and a 119.6 passer rating.
"You don't want to lose your quarterback," said coach Marc Trestman. "We don't want to lose Jay. [But] we're lucky to have Josh. He's an experienced player in that he has the ability to move the football team and make good things happen, and take care of the football."
McCown, an 11-year NFL veteran, will make his first start Monday night in Green Bay since the 2011 season finale when he completed 15 of 25 passes for 160 yards with one TD, one interception and a 75.4 rating in a win in Minnesota.
"He's absolutely ready," said quarterback Jordan Palmer, who was re-signed this week to back up McCown. "He's a vet. People throw the term around 'this guy's a pro' quite a bit, but he's a pro in every sense of the word. He's a guy who is prepared.
"Everybody in the locker room loves him. The whole line wants to block for him. The receivers want to make plays for him. The running backs want to get out on check-downs and protect for him. He's just as confident as any starter is going to be. I think the Washington game is just a testament to that, and he's only going to get better as he gets more reps."