When Martellus Bennett caught only one pass in three preseason games, some questioned how prominent a role the veteran tight end would play in the Bears offense this year.
Bennett seemed to provide a definitive answer in Sunday's season opener, making three key receptions for 43 yards in a 24-21 comeback win over the Bengals at Soldier Field.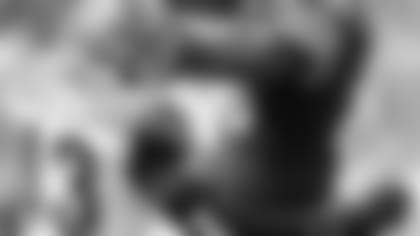 Martellus Bennett leaps to catch an 8-yard TD pass from Jay Cutler against the Bengals.
Bennett gave the Bears an early 7-0 lead when he leaped high in the back of the end zone to haul in an 8-yard touchdown pass from Jay Cutler with safety George Iloka draped all over him. Bennett adjusted his route on the play, which he had worked on repeatedly with Cutler in practice.

"What was great about that is I watched them work on it Friday in practice for quite some time," said coach Marc Trestman. "Martellus has a real knack. He could see that if he ran the original route called he would have run the route to get covered. So what he did is he kind of made himself skinny between the 'Mike' linebacker and the safety.

"He just kind of worked himself open and Jay back-shouldered the throw. That's really red-zone football. That's a contested throw. It was well-located by Jay where it really was going to be Martellus' ball or nobody's ball and then he hung on amidst an immediate collision, which is pretty normal. It was a backline throw in the red zone."

With the Bears trailing 21-10 and facing third-and-three from their own 35 midway through the third quarter, the duo connected again. Cutler escaped the pocket and flipped a pass to Bennett, who raced up the sideline for 30 yards, setting up Matt Forte's 1-yard touchdown run.

"I had a flat route," Bennett said. "[Cutler] was rolling out. Usually when you're low and the quarterback scrambles you go high and if you're high you go low. So I went high. I didn't know if he saw me at first and then he did a little Chris Paul pass and I just turned it up on the sideline. I felt like I was running fast. I made a move on the sideline and I tried jumping over the guy."

Bennett's third and final catch was just as crucial as the first two. With the Bears protecting a 24-21 lead and facing third-and-eight from their own 30, his diving 10-yard reception over the middle resulted in a first down with about five minutes remaining in the game. The Bears proceeded to pick up two more first downs, burning the rest of the time off the clock to preserve the win.

"He is a very important part of our offense, as you saw on a key play in the middle of the field," Trestman said. "He's just part of the mix. He's a very smart player. He's got unique route-running skills for a man his size and we'll continue to use him."
Bennett also has a unique personality, which was on display again Monday at Halas Hall. During a news conference he spoke about admiring and emulating Muhammad Ali, watching Triple-H and the Rock while growing up, and his many nicknames including the "Black Unicorn." Bennett also revealed that when he doesn't talk a lot, teammates think he's sick.
Although reporters see Bennett as a happy-go-lucky, fun-loving quote machine, Trestman stressed that there's a serious side to the tight end as well.
"He's very professional in meetings," said the Bears coach. "He's very business-like. He's a diligent note-taker, probably as much of a note-taker as I've ever [seen]. He writes down everything; every coaching point, everything we say in team meetings, he writes it all down.
"You see the colorful end of it, but there's also a very serious football-oriented guy. He got what he deserved on that touchdown. He worked hard with Jay on Friday of last week working that route four or five different ways while the special teams were working in the end zone. He's a hard-working guy, one of our hardest workers, so that's the side you may not see and we see every day."