INDIANAPOLIS — Bears director of college scouting Marty Barrett spoke to ChicagoBears.com in Indianapolis about the most important aspect of the NFL Scouting Combine, an impressive Combine performance by a current Bears player and more about the annual event.
One of the main reasons the Combine was created in the mid-1980s was for NFL teams to perform medical evaluations on pro prospects, and that continues nearly three decades later. Players who have suffered injuries in college are sent to a nearby hospital for X-rays and MRI exams.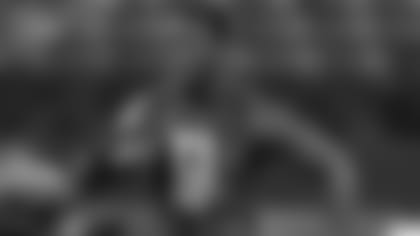 Positional drills are part of the testing at the annual NFL Scouting Combine.
"The medical is how the Combine started and still to this day is the most important aspect," Barrett said. "It's very important for us to see where the players stand medically after a 3-4-5-year career."

The Combine has been held in Indianapolis since 1987. Over a six-day period ending Tuesday, approximately 330 of the nation's top draft-eligible college players will be poked, prodded, timed, weighed and interviewed by all 32 NFL teams.

The prospects are participating in position drills and are being timed in the 40-yard dash, three-cone drill and shuttle run; tested in the vertical jump and broad jump; and asked to bench-press 225 pounds as many times as they can.

"The testing is valuable because you're able to compare players at their position and you're able to compare players that have played in the past," Barrett said. "It helps determine whether a player fits the profile that your team is seeking and how that player fits as an athlete."

One of the most impressive individual performances Barrett has witnessed in Indianapolis occurred in 2011 when defensive tackle Stephen Paea set a Combine record with 49 reps in the bench press.

The Bears didn't draft Paea because of what he did in Indianapolis. But the bench-press record did help back up what the team had seen on tape during his career at Oregon State.

"When you watched him on the field, you saw very good explosion and strength and power," Barrett said. "So when he put up those numbers it [wasn't a surprise]. It fit into the way he played."

Every evening at the Combine, each NFL team conducts 15-minute interviews with prospects in a hotel suite. The teams must submit a list of 60 players in advance, and the league then schedules the sessions. It wasn't always that organized, however. Several years ago, teams would engage in a no-holds-barred tug-of-war over players. One former NFL general manager once joked that the teams with the biggest scouts always won the battles.

"You would just have to wait on guys and it was tough because you had grown men trying to run down these players," Barrett said. "You'd have to wait your turn. Then you'd finally get a player and you'd take him to your room and there were already two guys waiting to get in. It was borderline chaos. Since they've gone to this system, it's 100 percent better."

During the interviews, the Bears try to glean as much information as possible from the prospects.

"It's hard to interview someone for a job in 15 minutes, so you're just scratching the surface," Barrett said. "You really want to see how a player handles himself. You already know a lot about him. So you want to see how sincere he is and how forthright he is about his playing career and personal life. Once you get that information, you use the rest of the spring to follow up with him."

NFL personnel people and coaches know many of their counterparts throughout the league, but they understand the importance of not divulging how their teams feel about individual prospects.

"You will talk about some things, but you always know not to cross that line," Barrett said. "Even with your better friends in the league, they want to win as much as you do. You certainly don't want to give away information that's going to potentially hurt your team.

"Your team is like a family. You know other families and you talk, but there are certain things within your family that stay within your family."