General manager Phil Emery and coach Marc Trestman were fired Monday primarily because the Bears have lost too many games and veered off the path to winning a championship.
That's how Bears chairman George H. McCaskey summarized the decision during a 42-minute joint press conference with team president and CEO Ted Phillips late Monday afternoon.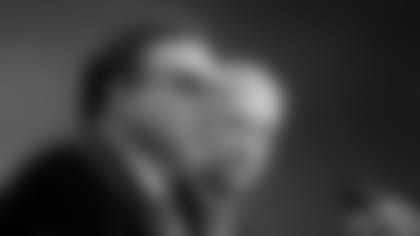 George H. McCaskey looks on as Ted Phillips answers a question Monday at Halas Hall.
"At Halas Hall we take the notion of the Bears family seriously," McCaskey said. "That's why it's especially difficult to take the action we've taken. Phil and Marc are good football men and good men. They both have served the Bears honorably. At times, they have put the Bears first, and my family is grateful for their efforts. Halas Hall is a better place for Phil and Marc having been here.
"These are difficult decisions. They affect lives and livelihoods. In the end, we didn't win enough games, and Ted and I came to the conclusion that continuing on our present course would not result in our ultimate goal, which is to win championships. All our decisions revolve around that goal, and we feel that it's time to move forward with new leadership to help us get there."
McCaskey said that the decision to dismiss Emery and Trestman was finalized Sunday night after the Bears ended the season with their fifth straight loss to finish 5-11.
"There wasn't a final straw," McCaskey said. "It was an evaluation of the body of work."
The Bears have already started the search to fill both positions and have hired Ernie Accorsi as a consultant to help them during the process. Accorsi is a longtime NFL personnel man with the Baltimore Colts, Cleveland Browns and New York Giants who is part of the league's career development advisory panel.
"Ernie has a wide variety of experience and has been successful, and we feel he will provide a critical voice to our search process," Phillips said. "You can never have enough expert football opinions. He understands coaches, he understands general managers. He was the one who hired Tom Coughlin, so between hiring Ernie and still being able to consult with other members of that panel, we think we've got a good amount of football experience that will be really important to us as we make this decision."
Accorsi has already presented the Bears with a list of preliminary candidates, and that list is expected to grow. The team does not have a timetable to make the new hires and is prepared to act quickly or wait if necessary to land the right general manager and coach.
"There is no timeline, but we do have a sense of urgency and we will be prepared to act when we get the right candidates in place," Phillips said.
Emery was hired by the Bears in 2012 and spent three seasons with the team.
Asked what the Bears are seeking in his replacement, Phillips said: "We need good decisions. We need good drafts. We need smart decisions in free agency. We need someone who can work with our head coach collaboratively and come up with the right mix of players, and to analyze our needs the right way and ultimately have a plan in place to get us back to winning championships."
Trestman took over a team that went 10-6 in 2012 and compiled a 13-19 record in two seasons. Phillips said he's seeking a new coach that will pay close attention to detail, make strong decisions and create an identity for the Bears on offense, defense and special teams.
"That's going to be very important; being able to create a vision and articulate that vision to the team and to our fan base of what we're all about," Phillips said. "We want to see a team that is tough in all three phases so that when teams come into Soldier Field or play the Bears, they're fearing coming in to play us. That's what we need."
McCaskey agrees that creating an identity will be vital for the Bears moving forward.
"I thought Ted made excellent reference to that," McCaskey said. "We need to re-establish our identity. People need to know that when they play the Chicago Bears that they've been through hell."