When they were evaluating Boise State's Shea McClellin in preparation for the NFL Draft, the Bears were very impressed with the defensive end's natural instincts and athleticism.
Both of those traits were on display on the practice field Thursday in Bourbonnais as McClellin quickly diagnosed a screen and leaped high to intercept Jason Campbell's pass.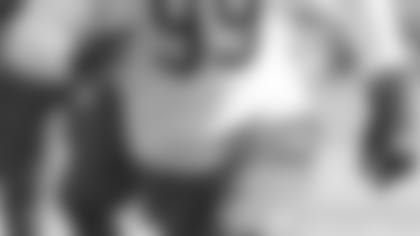 Bears first-round draft pick Shea McClellin has been improving with each passing day.
"I saw the quarterback dropping back, so I was going for an inside rush," said McClellin, the Bears' first-round draft pick. "But I saw him dropping back further, so I kind of stopped and just waited for him to throw it and luckily it was right in my hands."

Coach Lovie Smith certainly liked seeing the interception, but wasn't surprised with the effort. The Bears have high expectations for McClellin, a productive three-year starter at Boise State who recorded 9½ sacks as a junior in 2010 and seven sacks as a senior in 2011.

"It was impressive, but he's capable of making plays like that," Smith said. "When you're a first-round draft pick coming in, there's a lot of pressure on you to be All-Pro right away. [But] it takes time."

McClellin got a rare opportunity to further show his skills late in Thursday's practice when the Bears' unproven players participated in a scrimmage with live tackling. On one play, McClellin penetrated into the backfield but let running back Armando Allen bounce off of him and scamper around left end.

"It's good to work in some live stuff," said McClellin, who was selected by the Bears with the 19th pick in the draft. "I missed a tackle early on. I've got to get those. But I think it helps out a lot."

Defensive coordinator Rod Marinelli, who always stresses fundamentals, is focused on helping McClellin explode out of his stance and become more consistent in all aspects of his game.

"It's just a work in progress right now," Marinelli said. "He's just got to keep coming. The work is there. The effort's there. Now it's just about being comfortable coming off every down. Sometimes he's kind of looking around a little bit instead of just going. So that will come. He's made a little progress each day."

"I keep talking about 'make sure you're getting off the ball; I'll clean you up,'" Marinelli said. "As long as he keeps coming off the ball, we can clean this up. He's kind of thinking, 'Am I going to get punched this way or that way?' But we've got to create on the go. We've just got to keep going."

Making the jump from college football to the NFL requires a major adjustment for a defensive lineman.

"The protections change on you," Marinelli said. "All of a sudden you may get help to your inside and the guy can jump you and you're not aware of it. Usually everything you did in college doesn't work. So you've just got to be able to break a guy down a little and then build him back up." [ ](http://www.phoenix.edu/campus-locations/il.html?utmsource=Story&utmmedium=instory&utmcampaign=300x100)
It's definitely a process that requires patience, but the Bears are convinced that McClellin will develop into the player they envisioned when they spent their first draft pick on him in April.
"He has great quickness and speed," Smith said. "He works hard and has good athletic ability. Nothing should stop him from being a good football player."