Bears quarterback Josh McCown has played in 54 NFL games over 11 seasons, but that doesn't mean he isn't still learning something new every day he steps onto the field.
"There are certain aspects of your skill set that probably kind of get penciled in as what they are," McCown said Thursday. "But you're always learning and I think that's life in general.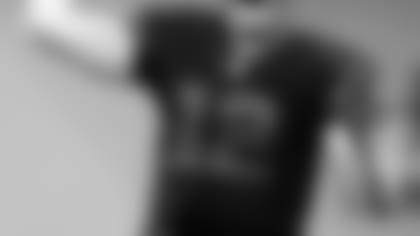 In two starts this season, quarterback Josh McCown has led the Bears to wins over the Packers and Ravens.
"I want to always be learning and pushing myself to grow as a person and as a player. If you can't look at a game and go, 'Man I hit every throw, I did everything right,' then there is room for improvement. Certainly every week and every day when I come here, it's how I can improve myself and make myself better.
"Over the course of a career and the older you get, some of the mistakes that you used to make minimize or you don't do those as much. But there are still times where you find yourself making a throw or doing something and you're like, 'Man, I shouldn't do that,' but you do. It's finding ways to improve in those areas so those things don't happen."
McCown joked that while he knows he's not going to get any taller, he's always seeking to improve his game from a mental standpoint.
"When I look at players who I respect and who I think are great players at the position—Peyton Manning, Drew Brees, Tom Brady and Aaron [Rodgers]—you listen to them talk and you watch how they work and by all accounts it seems like they've made it or they've got it," McCown said.
"But they're not relaxing; they're continuing to work. So if I'm me and they're them, I probably need to work a lot harder. That's kind of the way I see it. There's just a way that I feel like I have to approach it and there's certainly a ton of room for improvement."
While that may be true, McCown is playing the best football of his life, at age 34. Replacing the injured Jay Cutler the last four games, McCown has completed 61 of 101 passes for 754 yards with five touchdowns, no interceptions and a stellar 100.0 passer rating.
"You just learn that every quarterback is on their own journey," said coach Marc Trestman. "They all start at different places. They all finish in different places.
"You look at the history of the game and where quarterbacks come from. Some are drafted in the first round and do well, others don't. Others are drafted with the 199th pick in the draft and they wind up winning three Super Bowls and are Hall of Famers (Tom Brady). Other guys are working in a grocery store one year and the next year they're the MVP in the Super Bowl (Kurt Warner). They all have their own way of reaching this moment.
"Josh is a very unselfish guy who works very hard, who has been working hard his whole career, doing whatever's asked of him to do and he's in a position to help this football team and I don't think he's carrying it on his shoulders. The guys around him want to help, and I hope he doesn't feel like he has to carry the team. We don't want anyone to have to carry the team or put the team on his back. Everybody's got a role and a responsibility and Josh knows what his is and he's doing a good job of taking on that responsibility."