If Josh McCown re-signs with the Bears, he would return as Jay Cutler's backup. But it sounds like that's what McCown wants to do, even if he gets a chance to compete for a starting job elsewhere.
"My heart is heavy in Chicago for reasons just from this year, not just getting to play but more importantly the guys in the locker room, the coaches, the organization, the McCaskeys," McCown said Tuesday during an appearance on ESPN 1000's "Waddle and Silvy Show."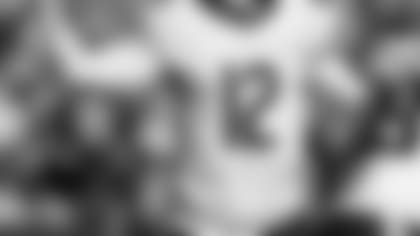 Josh McCown's 109.0 passer rating in 2013 was the best by a Bears quarterback in team history.
"I've been a lot of places and I've gone through some of these things where you go in to compete to be a starter, so I'll take those situations as they come and evaluate them if they do come. All those things are still up in the air. So we'll see some weeks from now. But right now as far as I'm concerned, I'm a Chicago Bear. My heart is there and until something doesn't work out or it changes, that's where I hope to be."
McCown, who is due to become an unrestricted free agent, cannot sign anything other than a one-year minimum contract until the beginning of the league year March 11. But the Bears are the only team that can negotiate with him until March 8.
McCown had the best season of his 11-year NFL career in 2013. Appearing in eight games with five starts in place of the injured Cutler, the 34-year-old completed 66.8 of his passes for 1,829 yards with 13 touchdowns, one interception and a franchise-record 109.0 passer rating.
McCown led the Bears to a rare victory in Green Bay, was named NFC offensive player of the week after accounting for five TDs against the Cowboys, and ranked third in the NFL in passer rating behind only the Eagles' Nick Foles and the Broncos' Peyton Manning.
"I'm definitely pleased with some of the things that I was able to accomplish, just simply from the standpoint of not having played a full season since 2011, at the end of that season," McCown said.
"Not having played since then, there are some things that you're going, 'OK, can I still run and do all the things that I want to do?' And 'can I move our team and help us score points and all that just from an offensive standpoint?'
"So as I look back at that, I'm pleased with that no doubt. But [there's] still [a] very bitter taste because we didn't get into the playoffs and we weren't able to get that done. As a quarterback, my point of view is when you look at the games that you got to play in or start and you go, 'Hey, I went 3-2 and we lost a couple games,' for me I just look at those games and [think], 'What could I have done better to help us win? How could I have played different to help us win those games?'
"That's really my focus. I think when you approach your job that way, that's how you can improve as a player. So those are the things that I'm thinking about."
During his exit interview with the Bears after the season, McCown got the feeling that the team wanted him back.
"I think it was mutual that we both wanted to continue working together," McCown said. "The things I have to weigh and think about are just if an opportunity does come along to start, where is that team? What kind of team is that?
"I've had opportunities. But it's hard to leave a team, especially as a quarterback, with the offensive structure that we have and that we're building and with the pieces that you have around you. Those things are all important as you look at this.
"It's not just a cut-and-dried, 'Oh, this team, they'll give you a chance to be a starter, let's go there.' It's weighing what all is there and what the opportunity entails. So it's not a done deal. It's going to have to look really good for me to want to go somewhere else because again my heart is in Chicago and it's where I want to be."