Todd McMillon was at the airport last June when he received a phone call that changed his life.
The former Bears defensive back was told by his doctor that he had prostate cancer. While some irregularities had been discovered during a routine physical, McMillon wasn't experiencing any symptoms and was shocked and devastated by the diagnosis.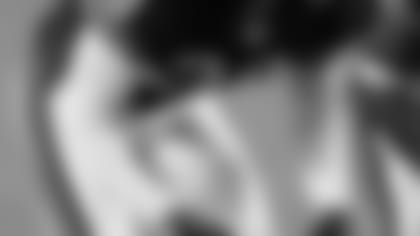 Todd McMillon appeared in 48 games in five seasons with the Bears from 2000-04.
"When he told me I was positive for cancer, I just went numb," McMillon said. "I thought he had the wrong test. I played in the NFL. I am super healthy. I work out all the time, so I am in really good shape. I was like, 'This can't be me. I'm only 39 and I have prostate cancer?'"
The first thing McMillon thought about was his wife, Erin, and their three children, ages 13, 8 and 6. He was at Phoenix's Sky Harbor Airport about to board a flight to California to visit his father. After going through security, McMillon sat down in a food court and called his wife, who was vacationing in Canada with their kids.  
"As soon as I heard her voice, I started crying," McMillon said. "I thought I was going to die. When you hear the word cancer, most of the time it's associated with death. But that's not always the case. Just because you're diagnosed with cancer doesn't necessarily mean that you're going to die."
McMillon had his prostate removed last August. Subsequent tests showed that the cancer was completely contained in the prostate and he is now cancer-free. Feeling that the early detection of the disease saved his life, McMillon is now determined to raise awareness about prostate cancer.
"It's kind of scary because I didn't have any symptoms whatsoever," said McMillon, who played five seasons with the Bears from 2000-04. "I was just getting a regular checkup.
"Now that I look at it, it happened to me for a reason. I want to raise awareness and bring this [message] to people. Prostate cancer is serious. It doesn't matter what kind of shape you're in. It doesn't matter what color you are."
One reason McMillon has had a physical every year is that he knew prostate cancer ran in his family; both his father and his uncle had the disease.
"It's important to get a physical every year, even if you don't want to and even if you don't have any symptoms," McMillon said. "These tests are there for a reason. Even if you feel good, you should get tested. And if something runs in your family, my gosh, you need to get it checked out.
"Don't turn your back on it. I have a few friends who have a history of prostate cancer in their families and they're afraid to get checked out. They say, 'I'm healthy, so I don't need to get it checked.' Again, I want to raise awareness. I just can't sit on the sideline and say I'm cancer free without trying to help others."
McMillon signed with the Bears in 2000 after spending three seasons in the CFL with the Saskatchewan Roughriders. He appeared in 48 games with two starts, registering 32 tackles on defense and 50 stops on special teams. He currently lives and works in Phoenix, where he owns a landscaping company.
McMillon initially struggled with his cancer diagnosis, conceding that he was actually embarrassed to tell people because they saw him as a healthy former pro athlete. His spirits were boosted after talking to Bears associate director of pro personnel Dwayne Joseph, who served as the team's director of player development when McMillon was a player.
"I went into a slump for a little bit," McMillon said. "I called D.J. three or four weeks after I was diagnosed and he gave me some really encouraging words, and I didn't look back."
Moving forward, McMillon plans to partner with a cancer foundation to continue to spread the word about his experience and the importance of early detection.
"I need to speak up and I need to raise awareness," he said, "because prostate cancer is the No. 1 cancer in men and a lot of men don't know they have it."