How would you assess the offensive line's performance after reviewing the tape of the Buffalo game?
We played pretty well for the circumstances to us. Losing (Roberto) Garza and (Matt) Slauson there early in the game and (Michael) Ola and (Brian) de la Puente had to come in and fill in for them, they did a nice job. We didn't miss too much of a beat in there. They opened up some nice holes for Matt (Forte). They did a nice job protecting for Jay (Cutler).
What are the challenges of making in-game substitutions like you had to do against the Bills?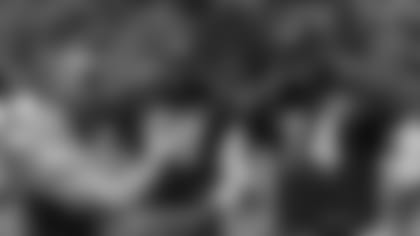 Pay Meyer chats with Bears offensive linemen Matt Slauson and Jermon Bushrod at practice.
The starters build up continuity and they obviously practice together all the time. That's the difference. In the NFL, they are the guys getting all the reps in practice day-in and day-out. If we practice four days a week, the starters are getting 100 percent of the reps. And the backups aren't. The backups are getting the reps that are servicing the defense. So their reps during the week are looking off of a card and seeing what that card says. They're not actually practicing the plays that they are going to be in for the game. So that is probably the most difficult thing.
Given that they didn't practice much leading up to the game, how did you evaluate the performances of Ola and de la Puente?
They did a very nice job, both of them. They played well, smart. Both played physical and tough. Like I said, they did a really nice job filling in for the two starters.
It is common to hear from coaches that a player makes his biggest jump from his first season to his second. That said, where have you seen the biggest improvement in second-year players Kyle Long and Jordan Mills?
Well, Kyle was here all [offseason], where as last year he wasn't. And so that obviously set him back a ton last year. So just the knowledge of the game, especially for Kyle more so just because football wasn't his career always. He had a late start to the game, especially being a lineman. Just the experience of anything from identification of a defensive front to knowing how to step properly to knowing what call to make and what we are trying to get done offensively.
Jordan is the same, more so from a technical standpoint. Knowing how to step, knowing where to shoot his hands, knowing where his eyes should be, that type of stuff. Just the confidence of, 'Hey, I've started 16 games and [I'm] in year two now. I'm not a rookie anymore and I need to play like a vet.' That's probably the biggest thing.
Looking ahead to San Francisco, you face a team that plays a 3-4 defense. What's the difference in preparing to block against that formation compared to playing a 4-3?
Difference in technique is the biggest thing, the difference in the technique in both the run game and pass game. It's totally different in terms of leverage and angles and hand usage and hips; everything is totally different. The (3-4 line) plays it different. They're maybe not as much of an attack, downhill (unit) opposed to a two-gap and hold-their-own at the line of scrimmage.
We'll have the scout team simulate it, but it's always hard though. We were fortunate that we played a few (3-4 teams) in the preseason – and we played several last year too – but we played a couple in the preseason so we already got a warmup to the 3-4 defense that they play. You can try to simulate it, but it's always hard. It's so unorthodox compared to what we are used to seeing in a regular 4-3 defense.
How do you recommend fans who want to learn more about offensive line play watch games on the TV broadcast?
On the TV copy it is hard, but my advice is just don't follow the ball. Watch what is going on in there, obviously the battles that go on is exciting to watch that. When [Matt] Forte or the backs run the ball, just watch the way the line works together, the combination blocks from the first level up to the second level, studying that. I don't watch a ton of football on television any more, but when I do, I always study tackle-to-tackle to see what teams are doing, what schemes they are running. Whether it's NFL, college football, if I'm at a high school game, I've always watched tackle-to-tackle just seeing what's going inside and seeing how people are trying to attack each other.