INDIANAPOLIS — In Michael Sam's perfect world, the throng of reporters that mobbed him Saturday at the NFL Combine would have only asked questions about his ability on the field.
But just two weeks after announcing that he is gay, the Missouri defensive end understood why the focus wasn't on his pass rush skills or how fast he hopes to run the 40-yard dash.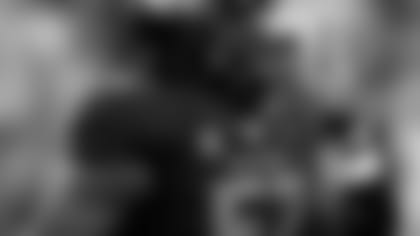 Missouri defensive end Michael Sam was voted the SEC's co-defensive player of the year.
"I wish you guys would just say, 'Michael Sam, how's football going? How's training going?'" Sam said. "I would love for you to ask me that question. But it is what it is. I just wish you guys would just see me as Michael Sam the football player instead of Michael Sam the gay football player."
Given that Sam will soon become the NFL's first openly gay player, those questions likely won't end anytime soon. But he insisted that he's prepared to join any organization, even a team like the Miami Dolphins that has been embroiled in a bullying scandal.
"I'm not afraid of going into that environment," Sam said. "I know how to handle myself. I know how to communicate with my teammates. I know how to communicate with the coaches and other staff I need to communicate with."
Asked about the possibility of hearing homophobic slurs in the locker room, Sam said: "I've been in locker rooms where all kinds of slurs have been said, and I don't think anyone means it. I think it's a little naive and uneducated, but as time goes on, everyone will adapt."
Sam said that his Missouri teammates didn't treat him any differently after he told them last summer during a team-building exercise that he's gay. He also revealed that he has received a lot of support since making the announcement about his sexuality.
"The positive outweighs the negative," Sam said. "I'm kind of surprised, actually. But there are a lot of supporters. A lot of people want this. There's just a lot of support out there."
Sam received a standing ovation last Saturday when he appeared on the video board at Missouri's basketball game against Tennessee. The Tigers football team was honored at halftime for its Cotton Bowl win over Oklahoma State. On Saturday at the Combine, Sam wore a "Stand with Sam" button that a woman gave him at the basketball game.
"I love my fans," Sam said. "I love Mizzou. It's one of the best schools in the nation and after what they did this past weekend, it was just amazing. I wanted to cry, but I'm a man. I just want to thank everyone who supported me, especially Mizzou, the students, my coaches, the whole organization and every Missouri fan. I'm a Tiger forever."
When a reporter informed Sam that he was going to ask him a football question, the Missouri star joked: "Hey, what's that?" It involved whether the 6-2, 260-pounder considers himself a defensive end or outside linebacker and if concerns that he's a 'tweener are legitimate.
"I'm a pass rusher," Sam said. "If you put me in a situation to get the quarterback, I'm going to get the quarterback. This league is a passing league. I would like to believe in myself as a good pass rusher. I can drop back in coverage as well, but my specialty is rushing the passer."
As a senior last season, Sam was named the co-SEC defensive player of the year after leading the conference with 10.5 sacks and 18 tackles-for-loss.
Sam recorded three sacks apiece in three games and was blanked in eight contests. Asked by a reporter about being inconsistent, he said with a laugh: "Winning is hard, buddy.
"There are going to be games where I might not get a sack. Throughout the games I did have some inconsistency there, but for the most part we as a defensive line did put a lot of pressure on quarterbacks and made them uncomfortable in the pocket; they had to go run away or throw the ball out of bounds."
With the draft process ramping up at the NFL Combine, Sam vowed to focus solely on football, no matter how difficult that may be.
"Since I'm not on an NFL active roster right now, that is my only thought, is to be on that roster," Sam said. "That's my 100 percent focus on this. I'm not focusing on anything else but to earn my spot on an NFL team."