When Bears cornerback Terrance Mitchell plummeted to the bottom of last year's NFL Draft, it put a chip on his shoulder that he vows will remain there forever.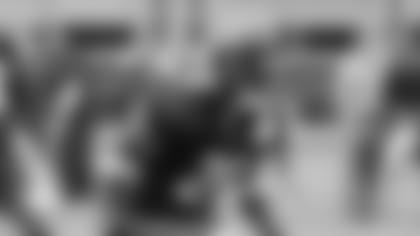 Bears cornerback Terrance Mitchell during a practice at Halas Hall.
That, however, isn't the only permanent reminder of Mitchell's free fall. On the back of his neck he sports a tattoo of the No. 254, the third-to-last pick in the seventh round of the draft that the Dallas Cowboys used to select him.
"That's going to be with me forever," Mitchell said after practice Monday. "That's just motivation to know that that's where they see me at."
A three-year starter at Oregon, Mitchell was projected to be chosen in the third or fourth round by most draft analysts. His 4.63 time in the 40 at the NFL Combine may have hurt his stock, but he's really not sure why he dropped so far.
"It was one of the toughest days of my life just because I thought I was going to go higher," Mitchell said. "Letting time and the days tick by, I was sick. I thought it was over for me."
Of course, Mitchell was wrong; it was just the beginning if his NFL career. And although he was waived by the Cowboys during final cuts last Aug. 30, he was signed to the Bears practice squad two days later. Mitchell was later promoted to the 53-man roster last Oct. 13 but did not play in any games.
This summer, Mitchell has impressed coaches with his work ethic and playmaking ability. His leaping interception over a Colts receiver Aug. 22 was voted the third best play of the NFL preseason weekend by ESPN and he added a fumble recovery last Saturday night versus the Bengals.
"He's just come really willing to work hard," said defensive backs coach Ed Donatell. "He's learned the details of the defense and every week he seems to be improving his performance. He's been very steady and it's turned into some production while he's been playing."
Mitchell's work ethic stems from his draft snub and other slights throughout his career, including a three-star ranking on a five-star scale as a high school recruit. (In case you were wondering, yes, Mitchell has those three stars tattooed on his neck near the "254.")
"My whole life I've always been an underdog, so that's always been my motivation," he said. "Ever since I was young there was always somebody that was supposed to be better than me, so I've just got to keep working. When you work hard, you create your own luck."
Mitchell hopes to parlay his efforts in training camp and the preseason into a roster spot with the Bears at a crowded and competitive position. Even with the release of two-time Pro Bowler Tim Jennings Sunday, Mitchell is battling for playing time with veterans Kyle Fuller, Alan Ball, Sherrick McManis and Tracy Porter, among others.
"I'm just blessed to be in the door now," Mitchell said. "I've just got to take advantage of it now while I'm here and continue to work hard."