In the second of a five-part series featuring Bears offensive assistants, running backs coach Curtis Modkins shares his thoughts on the players he works with.
On who Jordan Howard reminds him of:
"I had Larry Johnson before; he has a little bit of that. He's big and strong like Marshawn [Lynch] was. He has a little bit of Fred Jackson in him. I've been very impressed with what he's done before. Those are good players and he's a really good player. Marshawn was a big, strong guy. Larry had really good vision and could see, and Fred had a really high football IQ. Jordan has a little bit of all of that."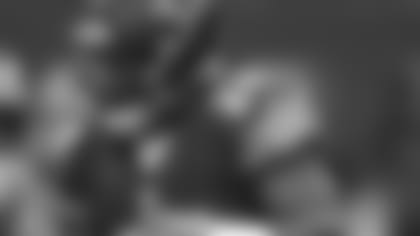 Jordan Howard set a Bears rookie rushing record last season with 1,313 yards.


On Howard remaining humble after a breakout rookie season:
"Jordan's a pro. Our team was 3-13 last year. So I think that's what this is about to him. Jordan did some good things last year. But ultimately our team was 3-13 and he wants us to be better. He wants us to win. So he's approached his job on a day-to-day basis as professional as you could expect."
On his first impressions of rookie Tarik Cohen in the spring:
"First of all, I was very impressed with the type of young guy he was. Hard worker. Diligent. Studies. He's really hungry to be successful. He really wants to be good. He really wants to be good for the team. That was the first impression I got. And then watching him run around a little bit, you just know that he has a little juice, a little quickness. It's what we need. He's been impressive so far. We just have to keep working."
"He's a confident kid. That's one of the things that jumps off the tape when you're watching him in college. He's a confident kid who believes in his ability and rightfully so."
On whether Cohen can create space when none is there:
"He's a little slippery. He's a slippery guy who has some separation ability. We're going to need that dynamic in our offense."
On expectations for Jeremy Langford:
"He just needs to get healthy. I haven't had a chance to see much. He's been sharp in the classroom and all that. He just needs to get healthy and we'll go from there."
On Ka'Deem Carey and Benny Cunningham:
"Ka'Deem is working his tail off; he's been very impressive. He's in shape. He's catching the ball. He's seeing it. He's running physical. Ka'Deem's done a really good job. Benny's come in and he's been the same way. Benny's an ultimate professional. I'm very pleased and very excited we've got both those guys."
On whether special-teams performance will determine if Carey and Cunningham earn roster spots:
"Right now we're not to that point. I think in general and not specifically speaking about those two, special teams is very, very important. I don't think that's exclusive to Benny and Ka'Deem. They all know that special teams is a very, very important part of this deal. It's important to coach [John], it's important to [special-teams coordinator] Jeff [Rodgers] and it's important to me. We'll get a chance to see all that iron out as we continue in this camp and get into the preseason."
On whether he's surprised by rookie Joel Bouganon's versatility:
"Not really. We saw it on tape from college. Particularly his junior year, he had some good runs. He had a good year. Some of the things we saw on tape show up a little bit here. He can catch. There's always certain stuff that guys do better. But he definitely can catch the ball. He works hard. He runs hard. He's one you look forward to seeing when it does get live."